Pacific Summary. 18 December 2017 - 21 December 2017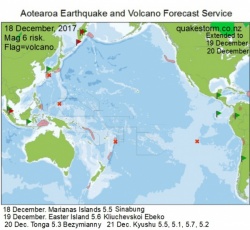 Click to Enlarge

Magnitude 6 risk locations are Auckland Island, North of Auckland Island, Kermadec Islands, Northern Tonga, Vanuatu, Guadalcanal, Banda Sea, Southern Philippines, Kyushu, Southern Honshu, East of Kamchatka Peninsula, Dominica, Northern Colombia, Northern Ecuador, Atacama, Kashmir.
Volcanic activity may increase.
Agung, Sinabung, Sakurajima, Kliuchevskoi, Fuego, Sierra Negra, Reventador.
The eruption of Manaro may have ended.
The forecast period is likely to be extended.

Update. 18 December 11.15pm
18 December.
Marianas Islands 5.5, 5.3
Biggest quake action was in the same location as the 8 December Marianas 6.5, 6.5, 5.5 triple quake.
Quake driving solar conditions arrived on cue but quakes and eruptions are sluggish.
The period may be going volcanic.
Offshore Oregon is added to Mag 6 risk locations.
Nevados de Chillan is added to volcanoes.
Quakes and eruptions may be isolated on 19 December, picking up on 20 December.
More harmonic tremor at Agung, lava is still rising into the crater.

Update. 19 December 11.00pm
19 December.
Northwest of Easter Island 5.6 6.35pm
Eruption Kliuchevskoi.
Pacific quakes and eruptions were isolated as solar conditions switched off.
The period hasn't ended, solar conditions could switch back on again.
Quakes and eruptions could pick up on 20 December.
Harmonic tremor at Agung indicates lava is still rising into the half full crater.
The volcano won't erupt unless solar conditions switch on.

Summary.
18 December.
Marianas Islands 5.5, 5.3
19 December.
Northwest of Easter Island 5.6 6.35pm
Eruption Kliuchevskoi, Ebeko.
20 December.
Pangai/Tonga 5.3 11.52am
Eruption Bezymianny
21 December.
Southeast of Kyushu 5.5, 5.1, 5.7, 5.2
The big heat went on Kamchatka Peninsula during the period.
Bezymianny is a sister volcano to Kliuchevskoi and went off with a bang.
Ebeko is just south of Kamchatka.
Agung became active on 20 December. Heavy pluming but not quite a minor eruption.
The volcano has quietened again but possibly not for long.
Quakes were below Mag 6 during the period.
Good location success.
Biggest quakes on any given day are marked on the map.
Kyushu was an excellent pickup.
New solar quake driving conditions due 22 December could drive more action near Kyushu.


Content © Roary Arbon 2013 - 2016
Website Design by Go Tech.