Pacific Summary. 22 December 2017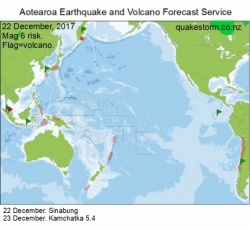 Click to Enlarge

Magnitude 6 risk locations are Auckland Island, Kermadec Islands, Northern Papua New Guinea, Molucca Sea, Southern Philippines, Kyushu, Southern Honshu, Atacama, Vallenar, Valparaiso, Valdivia.
Volcanic activity may increase.
Agung, Sinabung, Sakurajima, Kliuchevskoi, Sierra Negra. Nevados de Chillan.
Location confidence=low.
The forecast period may be extended.

Update. 22 December 8.00am
Pangai is added to Mag 6 risk areas.
New solar conditions aren't yet here.

Summary.
22 December.
Eruption Sinabung.
23 December.
Kamchatka Peninsula 5.4 3.34am
This forecast has fallen over.
The expected solar quake driving conditions never arrived.
Kamchatka Peninsula continues to be a hotspot.
Biggest Pacific quake was at Kamchatka...the location was dropped from the previous forecast (Murphys Law).
The 20 December eruption of Kamchatka volcano Bezymianny (near to Kliuchevskoi) turned out to be very large.
Luckily nobody lives at this remote location.
New solar quake driving conditions are just around the corner.
A new forecast will be posted on 24 December.

Content © Roary Arbon 2013 - 2016
Website Design by Go Tech.