Aotearoa Summary. 2 January 2018 - 3 January 2018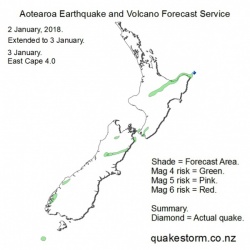 Click to Enlarge

Magnitude 4 risk locations are Snares Islands, Doubtful Sound, Lake Te Anau, Hollyford River, Cascade River, Harper Pass, Culverden, Kaikoura, Murchison, Cape Campbell, Northeast of Seddon, West of Makara, North of Makara, Palliser Bay, Rimutaka Ranges, Southern Tararua Ranges, Taumarunui, Tokoroa, Rotorua, Opotiki, East Cape.
Quakes may be modulated by a strong supermoon to low tide.
Low tide Cook Strait 5.00am 5.00pm
Isolated quakes may begin late 1 January.
The period is likely to be extended.

Update. 3 January 2.30pm
Local quakes were quiet on 2 January.
Weak solar conditions arrived on cue late 1 January but not enough to drive local quakes.
Solar conditions are fading on 3 January but strong lunar conditions are still in place for the next day.
Lunar effects are usually not enough to drive quakes unless solar conditions are present.
The forecast period is extended to 3 January but quakes may be isolated or absent.
Haupiri is added to Mag 4 risk locations.

Summary.
3 January.
Northeast of East Cape 4.0 2.43pm
Weak solar conditions during the period are slightly typical for solstice months December and January.
A strong supermoon made no difference to a weak quake response.
Lunar position is secondary to solar activity for driving quakes...when solar conditions are weak, lunar position has no modulating effect.
Quakes may remain settled until approx. 8 January when another weak quake period may begin.


Content © Roary Arbon 2013 - 2016
Website Design by Go Tech.