Aotearoa Summary. 14 January 2018 - 17 January 2018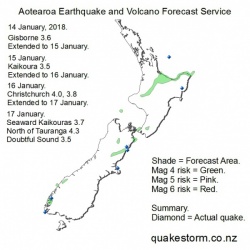 Click to Enlarge

Magnitude 4 risk locations are Doubtful Sound, Breaksea Sound, Offshore Milford Sound, Lower Hollyford River, Cascade River, Culverden, Kaikoura, South of St Arnaud, St Arnaud, Ward, Cape Campbell, Northeast of Seddon, Oteranga Bay, West of Makara, North of Makara, Rimutaka Ranges, West Taranaki Bight, Southwest of Taumarunui, Taumarunui, Tokoroa, Tauranga, Rotorua, Opotiki, East Cape, Northeast of East Cape.
The period may be mild in New Zealand.
The period is likely to be extended.

Update. 14 January 10.00pm
Northwest of Gisborne 3.6 7.07am
Mild solar driving conditions arrived on cue with auroras but quakes haven't followed.
Weak and fluctuating conditions may not drive much quake activity in New Zealand during the period.
Isolated quakes just at Mag 4 are possible on 15 January.

Update. 15 January 8.30am
15 January.
North of Kaikoura 3.5 7.06am
Local quakes are quiet on the back of fluctuating but mostly weak solar driving conditions.
All Pacific areas including New Zealand are at higher risk for isolated big quakes following the Peru 7.1 last night.

Update. 16 January 9.30am
15 January.
Kaikoura 3.5
Local quakes were under Mag 4 on 15 January.
Pacific quakes have also been low magnitude during the period apart from the Peru 7.1.
Solar driving conditions are falling but still above the threshold for driving quakes.
Isolated Mag 4 quakes are possible on 16 January.
Rotorua, Tokoroa, Volcanic Plateau are higher risk.

Update. 17 January 12.00am
16 January.
East of New Brighton 4.0 1.22pm
East of New Brighton 3.8 3.36pm
Southern Fiordland 3.7 5.15pm
The first Mag 4 in Christchurch for a long time was felt across the city and further.
Local quakes were isolated on 16 January.
No location success yet on higher risk Volcanic Plateau.
Solar quake driving conditions have fallen slowly to just above the quake threshold.
The forecast period is extended to 17 January and may close.
Volcanic Plateau remains higher risk.

Summary.
14 January.
Northwest of Gisborne 3.6 7.07am
15 January.
North of Kaikoura 3.5 7.06am
16 January.
East of New Brighton 4.0 1.22pm
East of New Brighton 3.8 3.36pm
Southern Fiordland 3.7 5.15pm
The forecast period was mild in New Zealand.
All the biggest quakes are mapped.
Christchurch had the first Mag 4 for a long time although Rolleston was busy recently.
The inclusion of not often forecasted Tauranga was justified, the biggest quake of the period coming in the Western Bay of Plenty.
Little Ice Age weather continues to trash standard meteorological forecasts. Temperature records broken in Otago and Southland will keep global warmists happy but the forecasted devastating summer drought following on from the unforecasted and unseasonal spring drought is largely broken by Little Ice Age deluges in many areas.
Government assistance to farmers following the spring drought is also because farmers in some areas never recovered from the cold wet winter...one day they were up to their knees in mud then it suddenly stopped raining for two months.
More Little Ice Age news posted on Facebook/Roary Arbon highlights the devastating winter in USA, Europe, Mediterranean, Turkey, Russia.
A new quake period begins early 21 January.
A forecast will be posted later.

Content © Roary Arbon 2013 - 2016
Website Design by Go Tech.