Pacific Summary 1 March 2018 - 2 March 2018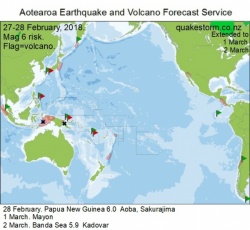 Click to Enlarge

Forecast. 27-28 February.
Magnitude 6 risk locations are Northern Tonga, Papua New Guinea Highland, Banda Sea, Papua, Ceram Sea, South Molucca Sea, Northern Sumatra, Andaman Islands, Southeastern Honshu, Northern Kuril Islands, Northern Gulf of California, Costa Rica, Nicaragua, North of Valdivia.
Volcanic activity may increase.
Aoba/Manaro, Kadovar, Sinabung, Mayon, Sakurajima, Ebeko, Sierra Negra, Nevados de Chillan, South Sandwich Islands.
The forecast period is likely to be extended.

Update. 1 March 11.30am
28 February.
Papua New Guinea 6.0 3.45pm
Eruption Sakurajima, Aoba/Manaro.
Moderate solar conditions arrived on time but are weakening.
Occasional fluctuations are keeping the period active but only just.
A low level ash eruption seems to be ongoing at Manaro...data is scarce.
The level of damage following the rare 26 February Papua New Guinea Highlands 7.5 is yet to be determined.
All roads and communication are still cut off and whole villages are reported to be flattened. More bad news seems likely.
Mag 8 is not uncommon in the oceans around PNG but big mainland quakes are less common.
Heavy rain in the area has not helped...many landslides.
Solar conditions are not likely to continue for much longer.
The forecast period is extended to 1 March and may close on 2 March.

Update. 1 March 10.00pm
1 March.
Eruption Mayon.
Pacific quakes were quiet on 1 March.
Daily eruptions of Mayon continue.
Solar conditions have remained steady and just at the quake driving threshold, making for difficult forecasting conditions.
A slow buildup could be underway.
Isolated Mag 6 quakes are possible on 2 March.
Major winter cold has arrived in Europe during the period.

Update. 2 March 10.30am
Quakes are quiet.
Solar conditions are still pointing to a possible slow buildup.
Kermadec Islands are added to Mag 6 risk locations.

Summary.
28 February.
Papua New Guinea 6.0 3.45pm
Eruption Sakurajima, Aoba/Manaro.
1 March.
Eruption Mayon.
2 March.
Banda Sea 5.9 3.20pm
Papua New Guinea Highland 5.6 4.01pm
Eruption Kadovar.
This forecast had some merit, extracting clear results from low activity quake periods is difficult.
Quakes were moderate during the period, the Banda Sea 5.9 was a good result from the outlook for late quakes.
Data is limited on the extent of the Kadovar eruption, the volcano has been spewing ash continuously for weeks.



Content © Roary Arbon 2013 - 2016
Website Design by Go Tech.