Pacific Summary. 3 March 2018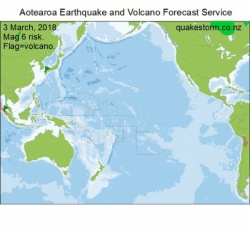 Click to Enlarge

Magnitude 6 risk locations are Northern Sumatra, Andaman Islands, Nicobar Islands, South of Titicaca.
Volcanic activity may increase.
Sinabung, Shinmoedake.
Forecast confidence=low.

Summary.
3 March.
Eruption Mayon.
5 March.
Papua New Guinea 6.0
This experimental forecast attempted to pick up very late action from the 27 February-2 March period.
Not including the obvious daily erupting Mayon or Papua New Guinea was a mistake.
Pacific quakes with the exception of one PNG aftershock were quiet 3-5 March.

Content © Roary Arbon 2013 - 2016
Website Design by Go Tech.