Pacific Summary. 5 March 2018 - 9 March 2018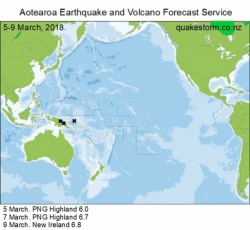 Click to Enlarge

No forecast was offered for the period.
5 March.
Papua New Guinea Highland 6.0
7 March.
Papua New Guinea Highland 6.7
9 March.
New Ireland 6.8 6.39am
Pacific quakes and volcanoes have been fairly quiet with exception of Papua New Guinea and nearby New Ireland.
New Zealand has sent two Hercules aircraft loaded with supplies to help out in PNG..
Approximately 100 people reported dead from the quakes so far.
Solar conditions were mostly under the quake driving threshold during the period.
A new forecast period begins 10 March.
March/April could see an increase in Pacific quake frequency.


Content © Roary Arbon 2013 - 2016
Website Design by Go Tech.