Aotearoa Summary Updated. 10 March 2018 - 13 March 2018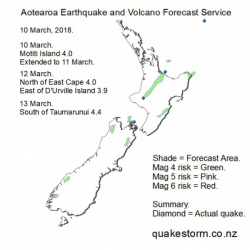 Click to Enlarge

Magnitude 4 risk locations are Manapouri, Lower Hollyford River, Upper Clarence, Tapuaenuku, Kahurangi, North of D'Urville Island, Eketahuna, Dannevirke, Waipukurau, Porangahau, South of Wairoa, East Cape, Taumarunui, Western Bay of Plenty.
Volcanoes quiet.

Update. 11 March 3.00pm
10 March.
Motiti Island 4.0 12.33am
North of Opotiki 3.8 5.25am
Mild solar quake driving conditions arrived on cue late 9 March as the forecast was posted.
Bay of Plenty recording mild quake activity.
Solar conditions quickly faded but an expected increase today has pushed conditions back to just above the quake driving threshold.
The forecast period is extended to 11 March.
Conditions are likely to fade again from tonight.
A late Mag 4 quake is possible.
A new stronger quake period may begin early 15 March and is likely to run for several days with quakes most frequent at the beginning and end of the period.

Summary.
10 March.
Motiti Island 4.0 12.33am
North of Opotiki 3.8 5.25am
12 March.
North of East Cape 4.0 2.50am
East of D'Urville Island 3.9 2.51am
Early 10 March local quakes came within minutes of bigger Pacific quakes.
A correlation in time is also obvious 12 March.
Mild solar conditions during the period never had enough energy to drive big quakes.
Good location success....mild quake periods tend toward background activity with no clear location results.
A new forecast period begins very early 15 March, running for several days with most action likely at the beginning and end of the period.
March/April may see an increase in Pacific quakes and eruptions.

Summary Update.
13 March.
South of Taumarunui 4.4 12.51pm
A late quake has come through, flattening out time parameters on the forecast period but still maintaining good location success.



Content © Roary Arbon 2013 - 2016
Website Design by Go Tech.