Aotearoa Summary. 3 April 2018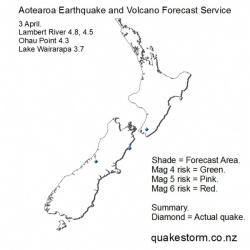 Click to Enlarge

3 April.
Southern Bolivia 6.8 2.40am
El Salvador 5.9 11.23am
Southern Alps/Lambert River 4.8, 4.5 1.12pm
Lake Wairarapa 3.7 3.48pm
Kaikoura/Ohau Point 4.3 4.57pm
Big Pacific action today has also brought an afternoon quake swarm to New Zealand.
The forecast outlook for local quakes, if any, to be below Mag 4 hasn't been borne out.
Despite low solar quake driving conditions, Pacific quakes are pulsing and may go through another weaker cycle.
New Zealand is added as Mag 4 risk on 4 April.
Lambert River, Whataroa, Kaikoura, Upper Cascade, Mana, North of D'Urville Island are higher risk.
A forecast map will be posted soon.


Content © Roary Arbon 2013 - 2016
Website Design by Go Tech.