Aotearoa Summary Updated. 21 April 2018 - 26 April 2018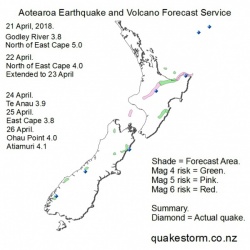 Click to Enlarge

Magnitude 5 risk locations are East Cape, Opotiki, Tokoroa, Taumarunui, Central Taranaki Bight.
Magnitude 4 risk locations are White Island, Northeast of Tauranga, Rotorua, Waipukurau, Porangahau, Dannevirke, Tapawera, Northern Seaward Kaikouras, Conway River, Culverden, Upper Rakaia River, Cascade River, Lower Hollyford River, Te Anau.
Volcanoes quiet.
The forecast period is likely to be extended.

Update. 21 April 9.00am
20 April.
Godley River/South of Mt D'Archaic 3.8 9.55pm
An early quake followed soon after the forecast was posted.
The Upper Godley Valley is just a couple of days walk from the Upper Rakaia for a fit tramper.
Strong solar quake driving conditions created spectacular auroras in the South Island last night.
Auroras were seen from Wellington south coast.
Conditions have slightly eased and moderate this morning.
Steady solar conditions may increase again late on 21 April.
Isolated Mag 4/5 quakes are possible on 21 April.
The forecast period is extended to 22 April.

Update. 22 April 11.00pm
21 April.
North of East Cape 5.0 10.39am
22 April.
North of East Cape 4.0 10.24am
Quake action has continued north of New Zealand during the period.
Pacific quakes are generally quiet as the period seems to be going very volcanic.
Solar conditions faded quickly following a strong initial burst which has produced spectacular aurorae.
The forecast period is extended to 23 April.
Isolated Mag 4 activity is possible.

Summary.
20 April.
Godley River/South of Mt D'Archaic 3.8 9.55pm
21 April.
North of East Cape 5.0 10.39am
22 April.
North of East Cape 4.0 10.24am
24 April.
Northwest Arm Te Anau 3.9 3.15pm
25 April.
East Cape 3.8 10.02am
The forecast period started with strong solar conditions and spectacular auroras.
The Godley River 3.8 gave reasonable location success. A previous forecast gave Lambert River south to Mt Cook as risk location.
Solar conditions faded very quickly following the initial burst, the forecasted late 21 April solar burst never arrived.
The Pacific was volcanic during the period and typically as a consequence local quakes faded to below Mag 4.
The forecast was dropped on 24 April.
Isolated quakes continued after the forecast period with the biggest quakes in risk locations.

Summary Updated.
26 April.
Offshore Ohau Point 4.0 3.34am
Atiamuri 4.1 11.28am
Dropping the forecast on 24 April was a mistake.
The forecast period has closed out 24-26 April with good location success despite inaccurate timing.
Local and Pacific quakes 27-29 April are quiet.
Volcanic periods tend to follow quake periods.
A substantial global volcanic period has begun 27 April.
Eruptions are easing on 29 April ahead of a new volcanic period 6 May.
New Zealand, Pacific and Indian Ocean volcanoes may show signs of heating with the arrival of solar quake and eruption driving conditions.





Content © Roary Arbon 2013 - 2016
Website Design by Go Tech.