Aotearoa Summary. 27 April 2018 - 5 May 2018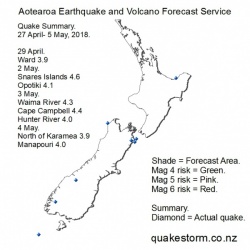 Click to Enlarge

29 April.
Offshore Ward 3.9 7.49am
2 May.
Northwest of Snares Islands 4.6 6.13am
Opotiki 4.1 7.54am
3 May.
Waima River 4.3 12.08am
Cape Campbell 4.4 5.11am
Upper Hunter River 4.0 2.58pm
4 May.
North of Karamea 3.9 4.11am
5 May.
South of Manapouri 4.0 1.33pm
The 21-26 April forecast period has been blown away by several days of steady following local quake action.
Timing accuracy from Little Ice Age solar conditions could be an ongoing forecasting issue as quakes flatten out over several days during quake periods, leaving no obvious quake peak.
Recent gains in location accuracy have helped give forecast substance although frustratingly at the expense of timing accuracy.
Hopefully new solar conditions on 6 May will create an obvious quake peak.
March and April are typically active quake months and this year is no exception.
A major quake and volcano period seems about to unfold 6 May.

Content © Roary Arbon 2013 - 2016
Website Design by Go Tech.