Pacific Summary. 27 April 2018 - 5 May 2018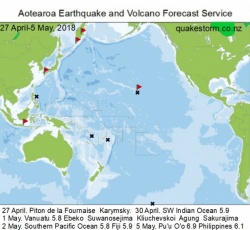 Click to Enlarge

27 April.
Eruption Piton de la Fournaise, Karymsky.
30 April.
Southwest Indian Ocean 5.9 10.23am
1 May.
Pentecost/Vanuatu 5.8 6.24am
Eruption Ebeko, Suwansoejima, Sakurajima, Kliuchevskoi, Agung.
2 May.
Southern Pacific Ocean 5.8 6.13am
Fiji 5.9 7.47am
5 May.
Pu'u O'o 6.9 10.32am
Offshore Northern Philippines 6.1 6.19pm
Steady quake and volcano activity over several days has ominously come with weak solar conditions.
No forecast was offered during this period.
Activity has been building for several days at Kilauea and many other volcanoes.
The Pu'u O'o 6.9 is accompanied by fissures opening along the East Rift right down into suburban areas where several houses are destroyed and all locals evacuated.
Weak lava emissions have accompanied the opening of the East Rift.
A major eruption at Pu'u O'o or Halemaumau seems likely with the arrival of new solar conditions late 5 May.
Volcanoes everywhere are red hot.
The eruption of Piton de la Fournaise has weakened to a low flow but likely to pick up again.
Japanese and Kamchatka Peninsula volcanoes are going off and likely to increase from 6 May.
A minor eruption at Agung marked a slight increase against the steadily declining activity since the 27 November 2017 eruption.
Big Pacific quakes may accompany the new forecast period.






Content © Roary Arbon 2013 - 2016
Website Design by Go Tech.