Pacific Summary. 17 May 2018 - 21 May 2018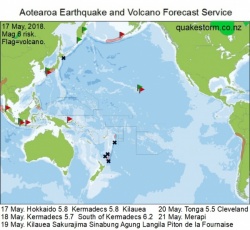 Click to Enlarge

Magnitude 6 risk locations are South of Kermadec Islands, Kermadec Islands, Northern Tonga, Northern Sumatra, Nicobar Islands, Andaman Islands, Myanmar, Southern Philippines, Southern Honshu, Aleutian Islands, Southern Peru, Titicaca, Atacama, Vallenar, Valparaiso, Pakistan, Afghanistan, Eastern Iran, Hindu Kush.
Volcanic activity may increase.
KIlauea, Piton de la Fournaise, Merapi, Suwanosejima, Sakurajima, Kirishima, Ebeko, Kliuchevskoi, Karymsky.
The forecast period is likely to be extended.

Summary.
17 May.
Kermadec Islands/SW L'Esperance Rock 5.8 5.22am
Hokkaido 5.8 6.42am
Eruption Kilauea/Halema'uma'u.
18 May.
Kermadec Islands/SW L'Esperance 5.7 9.43am
South of Kermadec Islands/300km NE East Cape 6.2 1/45pm
Eruption Kilauea/East Rift, NE Leilani Estates; Yellowstone/Steamboat Geyser.
19 May.
Eruption Kilauea/Halema'uma'u and East Rift, Sakurajima, Sinabung, Agung, Sakurajima, Cleveland, Langila, Piton de la Fournaise, Agung.
20 May.
Southern Tonga 5.5 12.42pm
Eruption Kilauea/East Rift.
21 May.
Eruption Merapi.
No observations or updates were made during the period.
Solar quake and eruption driving conditions arrived on cue and major action soon followed.
The biggest blast since at least 1924 at Halema'uma'u came soon after the onset.
The stratospheric blast was mostly hot air, steam and ash from the collapsing crater walls.
Vulcanologists measured a threefold increase in the size of the crater following the eruption and another large section slumping in and about to collapse.
The depth of the lava lake can't be measured due to constant ash but tiltmeters show the volcano inflating (see Facebook/Roary Arbon) at the onset of solar conditions for a day or two before deflating again. The lava lake is still going down.
The outlook for big action at Kilauea was justified further on 19 May when new fountains of lava near Leilani Estates flowed to the sea.
The slowing eruption at Piton de la Fournaise also picked up during the period but weakened again with the fading solar conditions.
Indonesian volcanoes Agung, Sinabung, Merapi blew minor eruptions late in the period.
The infrequently erupting Steamboat Geyser at Yellowstone got hot.
Aleutian Islands volcano Cleveland blew a minor eruption in a Mag 6 risk location.
South of Kermadec Islands was the Pacific hotspot during the period.
The 18 May South of Kermadecs 6.2 was part of a big sequence, giving some justification to Mag 5 risk inclusion on the Aotearoa map.
Quakes eased late in the period as eruptions took over.
A brief mild quake period may occur 23 May.





Content © Roary Arbon 2013 - 2016
Website Design by Go Tech.