Aotearoa Summary. 17 May 2018 - 20 May 2018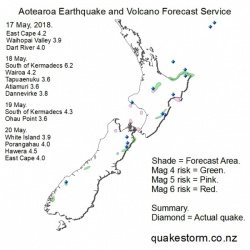 Click to Enlarge

Magnitude 5 risk locations are South of Motueka, North of D'Urville Island, Makara, Mana, South of Wanganui, South of Hawera, Northern Hawkes Bay, Taupo.
Magnitude 4 risk locations are Te Anau, Manapouri, Dart River, Upper Godley River, Clyde River, Lambert River, Culverden, Conway River, Ohau Point, Cape Campbell, Seddon, Ward, Eketahuna, Dannevirke, Waipukurau, Whakatane, Opotiki, East Cape, Tokoroa, Rotorua.
Volcanoes quiet.
The forecast period is likely to be extended.

Summary.
17 May.
Raukumara Ranges 4.2 5.23am
Upper Waihopai Valley 3.9 5.24am
Dart River 4.0 11.56am
18 May.
South of Kermadecs 6.2 1.45pm
Northwest of Wairoa 4.2 1.47pm
Tapuaenuku/Mid Clarence 3.6 3.59pm
Atiamuri 3.6 4.32pm
Dannevirke 3.8 4.55pm
19 May.
South of Kermadecs 4.3 1.51pm
Inland Ohau Point 3.6 8.16pm
20 May.
North of White Island 3.9 2.43am
Porangahau 4.0 7.28am
Hawera 4.5 10.40am
East Cape 4.0 7.22pm
No observations or updates were made during the forecast period.
Solar quake and eruption driving conditions arrived on cue and quakes soon followed.
The biggest eruption of Hawaii volcano Kilauea since 1924 also occurred at the onset of solar conditions.
All Mag 3.6 and greater local quakes are plotted on the map.
Moderate local quakes on 17 May gave good location results.
A big South of Kermadecs sequence on 18 May became the Pacific hotspot during the period.
Moderate local quakes followed the heavy action going on north of New Zealand with more location gains.
Solar conditions began weakening on 19 May as the end of the period approached.
A local quake peak on 20 May marked the end of the period.
The Hawera 4.5 was the biggest local quake and close to the highest risk location for the period.
A very brief mild quake peak is possible on 22 May.





Content © Roary Arbon 2013 - 2016
Website Design by Go Tech.