Pacific Summary. 24 May 2018 - 27 May 2018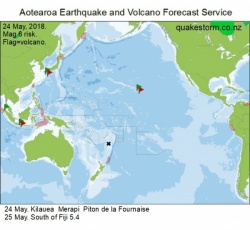 Click to Enlarge

Magnitude 6 risk locations are South of Kermadec Islands, Banda Sea, Ceram Sea, Molucca Sea, Celebes Sea, Northern Sumatra, Nicobar Islands, Taiwan, Northern Honshu, Eastern Kamchatka Peninsula, Trinidad, Northern Peru.
Volcanic activity may increase.
Sinabung, Merapi, Sakurajima, Kilauea.
The period is likely to end on 24 May.

Summary.
24 May.
Eruption Kilauea, Merapi, Piton de la Fournaise, Sakurajima.
25 May.
South of Fiji 5.4 2.48am.
Weak solar conditions arrived briefly on 24 May.
Pacific quakes remained subdued...the big Mag 7 spell dominating early 2018 is long over.
Kermadecs and Fiji remain hotspots, more action seems possible soon and could be volcanic, including New Zealand.
The volcanic spell in April and May shows no sign of letting up.
Sakurajima erupts daily and is an easy forecast pick.
Piton de la Fournaise is slowly running out of lava. A pickup in lava flow and volcanic tremor occurred at the onset of solar conditions and weakening again soon after.
Merapi is letting off some moderate phreatic explosions and could increase.
A sudden inflation and eruption at Kilauea/Halema'uma'u came with solar conditions.
Deflation then continued but could be bottoming out.
Vulcanologists have never observed what is going on at Kilauea at present. There could be a very big explosion or earthquake at Halema'uma'u soon if lava rises.
Lava is fountaining and flowing freely into the ocean at Leilani Estates on the East Rift.
Heavy degassing is an apparent feature of the eruption at Kilauea.
A new forecast period begins 1 June and likely to feature volcanoes.

Content © Roary Arbon 2013 - 2016
Website Design by Go Tech.