Aotearoa Summary. 27 May 2018 - 31 May 2018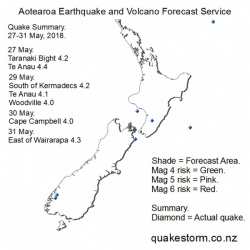 Click to Enlarge

27 May.
South of Waverley 4.2 12.54pm
Lake Te Anau 4.4 1.13pm
29 May.
South of Kermadecs 4.2 4.53am
Lake Te Anau 4.1
Woodville 4.0 10.45am
30 May.
Cape Campbell 4.0 9.48pm
31 May.
Offshore Wairarapa 4.3 1.12am
No forecast was offered for the period.
Steady activity in or near risk locations from the previous forecast period gives some sense to the period.
Solar conditions in 2018 have tended to spread quakes out over longer periods of time, making for lower timing confidence.
Extended local rumbles during the period makes some sense following the 18 May South of Kermadecs 6.2.
Possible strong solar conditions are due late 1 June with quakes to follow.


Content © Roary Arbon 2013 - 2016
Website Design by Go Tech.