Pacific Summary. 8 June 2018 - 17 June 2018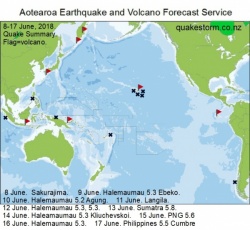 Click to Enlarge

No forecast was offered during the period.
8 June.
Eruption Sakurajima
9 June.
Halema'uma'u 5.3
Eruption Ebeko
10 June.
HaLema'uma'u 5.2
Eruption Agung
11 June.
Eruption Langila
12 June.
Halema'uma'u 5.3, 5.3
13 June.
Central Sumatra 5.8
14 June.
Halema'uma'u 5.3
Eruption Kliuchevskoi
15 June.
Northwestern Papua New Guinea 5.6
16 June.
Halema'uma'u 5.3
17 June.
Luzon/Philippines 5.5
Eruption Cumbre/Fernandina
Solar conditions ended on 7 June but the volcanic floodgates were open.
Quakes were subdued, volcanos huge.
Mag 5 quakes continue steadily as the now almost unrecognisable crater at Halema'uma'u opens up into a huge hole.
What is left of the original crater floor has slumped down over 100 meters.
Minor eruptions at Agung and Merapi. Agung had been quiet since January.
Many volcanoes smoking hot or low level eruptions.
Astute Observers may remember Galapagos volcano Sierra Negra as a forecast pick last few weeks.
Cumbre on the nearby Galapagos Island of Fenandina erupted on 17 June.
Sierra Negra may also erupt...time will tell.
A new forecast period begins 18 June.


Content © Roary Arbon 2013 - 2016
Website Design by Go Tech.