Pacific Summary. 27 June 2018 - 30 June 2018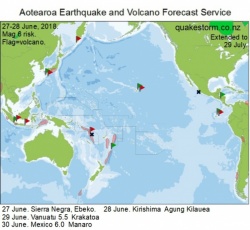 Click to Enlarge

Magnitude 6 risk locations are Macquarie Island, South of Kermadec Islands, Kermadec Islands, Tonga, South of Fiji, Vanuatu, Makira, Guadalcanal, Banda Sea, West Java, Central Sumatra, Northern Myanmar, Eastern Himalayas, Southern Honshu, Venezuela, Titicaca, Atacama, South of Vallenar.
Mag 5 quakes are likely to continue at Halema'uma'u.
Volcanic activity may increase.
Sakurajima, Monowai, Kilauea, Sierra Negra, Pacaya.
Indonesian and Southwest Pacific volcanos may be added during the period.
The period is likely to be extended.

Update. 26 June 11.00pm
26 June.
Sierra Negra 5.2 9.15pm
Solar conditions are here tonight.
Big quake right under Galapagos volcano Sierra Negra indicates an eruption is probably underway.
Krakatoa is added to volcanoes.

Update. 27 June 10.00am.
More quakes overnight under Sierra Negra indicate volcanic activity is underway.
No mainstream news yet, it's still nightime in Galapagos Islands.
Solar conditions have eased today, ahead of a stronger peak on 28 June.
New Zealand quakes were quiet overnight.

Update. 29 June 12.30pm
27 June.
Eruption Sierra Negra, Ebeko.
28 June. Eruption Kilauea, Kirishima, Agung.
29 June.
Vanuatu/Espritu Santo 5.5 4.47am
The forecast period has become once again heavily volcanic.
Good forecast success at Sierra Negra, the eruption came only a few days after a brief eruption at neighbouring Cumbre.
Three major shield volcanoes have now erupted in the last two months. Piton de la Fournaise, Kilauea, Sierra Negra.
The forecast is heavily centred on Java but the choice to not add Indonesian volcanoes until later in the period was a mistake.
A moderate ash eruption at Agung has temporarily closed the airport at Denpasar.
The eruption is tiny compared with the 27 November 2017 eruption.
Krakatoa and Merapi are both hot.
Java is hot.
Quakes are subdued, the biggest quake in the period so far at Vanuatu.
Solar conditions are slowly fading on 29 June, more residual volcanic activity seems possible before they fade away.
The forecast period is extended to 29 June.

Summary.
26 June.
Sierra Negra 5.2 9.15pm
27 June.
Eruption Sierra Negra, Ebeko.
28 June. Eruption Kilauea, Kirishima, Agung.
29 June.
Vanuatu/Espritu Santo 5.5 4.47am
Eruption Krakatoa
30 June.
Mexico 6.0 3.56pm
Eruption Manaro.
The eruption of Sierra Negra and several Indonesian and Southwest Pacific volcanoes dominated the forecast period.
Sierra Negra is the third shield volcano eruption in the last two months to erupt.
Only one active shield volcano at any time has ever been observed since this Service started in 2012.
The decision to add Indonesian volcanoes later in the period was pointless, they should have been plotted onto the map at the beginning.
Equally, the decision to add Monowai as a forecast location was pointless...only a major eruption of the remote undersea volcano is ever likely to be recorded by satellites or shipping.
Agung pushed up lava and ash throughout the period, causing travel disruptions.
The eruption was much smaller than the 27 November 2017 eruption.
Manaro has become active after a few quiet weeks.
Southwest Pacific volcanoes Yasur, Ibu, Kadovar, Langila are all in low level eruption or pluming.
Fountaining at Kilauea East Rift continues at 60 meters but the fountain is now hidden behind a 60 meter high cinder cone.
A river of lava flows out to the sea.
Subsidence at Halema'uma'u is ongoing.
The Vanuatu 5.5 was the biggest quake of the period and in a risk location until the Mexico 6.0 arrived.
No forecast was offered for 30 June when late action arrived before going quiet on 1 July.
Moderate solar conditions are briefly possible on 2 July before fading away for several days.




Content © Roary Arbon 2013 - 2016
Website Design by Go Tech.