Aotearoa Summary. 4 July 2018 - 5 July 2018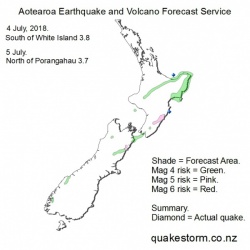 Click to Enlarge

This forecast was posted on Facebook/Roary Arbon 3 July 10.42pm NZST.
The quakestorm site was down at the time so a forecast wasn't posted there.

Aotearoa Forecast. 4 July, 2018.
Magnitude 5 risk locations are Porangahau, Waipukurau, Dannevirke, Eketahuna, Ohau Point, Northern Seaward Kaikouras.
Magnitude 4 risk locations are Western Manapouri, Te Anau, Olivine Ranges, Lower Arawhata River, Murchison, Culverden, Hanmer, North of Hanmer, Conway River, Kaikoura, Ward, Cape Campbell, Seddon, Turakirae Head, Lake Wairarapa, Masterton, Wairoa, Gisborne, East Cape, Opotiki, Rotorua, Tokoroa, Atiamuri, Taumarunui, Southwest of Taumarunui, Southwest of Wanganui.
Low possibility Mag 6 New Zealand. Confidence=low.
Volcanoes quiet.

Summary.
4 July.
South of White Island 3.8 2.30pm
5 July.
North of Porangahau 3.7 11.04am
Local quakes were luckily subdued during the brief period which tracked a slight pickup in solar conditions.
Solar conditions were already weakening again when the forecast was posted.
The biggest quakes are recorded and gave some location success.
Mag 6 was fortunately not justified.
The forecast bore huge resemblance to the forecasts in the weeks following the 14 November 2016 Culverden 7.8 Supermoon quake.
Following the huge quake North Wairarapa went into a slow slip event for several weeks and the forecasters couldn't tell if another big quake was coming or if a slow slip was underway....so Mag 6 risk for Cape Kidnappers was posted daily.
Slow slip events (many small quakes over a period of weeks instead of one big quake) only add another complicating layer to an already crowded data field and inevitably lower forecast confidence levels.
Regardless, North Island East Coast was very active at low magnitude during the period.
A brief quake period begins late on 10 July and may continue the Pacific and Indonesia volcanic trend.




Content © Roary Arbon 2013 - 2016
Website Design by Go Tech.