Aotearoa Quake Summary. 8 July 2018 - 17 July 2018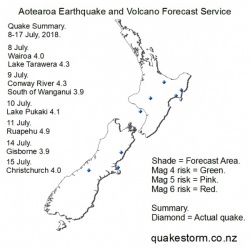 Click to Enlarge

No forecast was offered for the period.
8 July.
Wairoa 4.0 9.37am
Lake Tarawera 4.3 8.10pm
9 July.
Conway River 4.3 11.43am
10 July.
Lake Pukaki 4.1 10.23pm
11 July.
10km Southwest Ruapehu 4.9 9.43am
14 July.
Gisborne 3.9 7.09am
15 July.
Offshore New Brighton 4.0 9.10pm
The period was characterised by mild solar activity producing a steady string of quakes.
The Ruapehu 4.9 was significant but not an indication the volcano is about to erupt.
The Christchurch 4.0 was the biggest in the city for a long time and widely felt, even out at Rolleston.
A big quake soon at Christchurch seems very unlikely.
Quakes have eased on 16 July ahead of a moderate period on 18 July and a bigger period 20 July.




Content © Roary Arbon 2013 - 2016
Website Design by Go Tech.