Pacific Summary. 8 July 2018 - 17 July 2018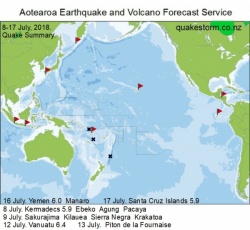 Click to Enlarge

No forecast was offered for the period.
8 July.
Kermadec Islands 5.9
Eruption Ebeko, Pacaya, Agung.
9 July.
Eruption Sakurajima, Kilauea, Sierra Negra, Krakatoa.
12 July.
Vanuatu 6.4
13 July.
Eruption Piton de la Fournaise.
16 July.
Yemen 6.0
Eruption Manaro.
17 July.
Santa Cruz Islands 5.9
The period was characterised by mild solar activity, moderate quakes and high volcanic activity.
Agung has emitted several minor ash eruptions.
Eruptions at Krakatoa have increased and the volcano is now constantly erupting ash and slight lava.
Major eruptions at Kilauea East Rift and Sierra Negra have remained steady.
A one day eruption of Piton de la Fournaise may pick up again in the next forecast period.
Three shield volcanoes in eruption during the period could be more indication of a lasting rise in vulcanism.
Data is sparse for Manaro but the volcano is very unsettled with ash eruptions.
The June forecast for an eruption of Pacaya was premature, the volcano blew ash and some lava on 8 July.



Content © Roary Arbon 2013 - 2016
Website Design by Go Tech.