Pacific Summary Updated. 18 July 2018 - 20 July 2018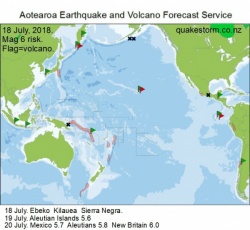 Click to Enlarge

Magnitude 6 risk locations are South of New Zealand, Kermadec Islands, South of Fiji, Tonga, Vanuatu, Solomon Islands, Southeast of Honshu, Northern Kuril Islands, Colima, Northern Peru, Valparaiso, Sakurajima, Ebeko, Karymsky, Pacaya, Sierra Negra, Kilauea, Piton de la Fournaise, Nevados de Chillan.
Forecast confidence=low.
The period may be volcanic.
A stronger period seems possible 20 July.

Summary.
18 July.
Eruption Ebeko, Kilauea, Sierra Negra.
19 July.
Aleutian Islands 5.6 7.06am
Weak solar quake and eruption driving conditions arrived on cue.
Volcanoes dominated activity.
The lava flow at Kilauea East Rift increased and vulcanologists observed several overflows and more houses in the danger zone.
Data is sparse for Sierra Negra, one report says lava fountains have increased.
All other forecasted volcanoes are hot or pluming.
Stronger solar conditions due late on 20 July may bring an increase in volcanic activity.

Summary Update. 20 July 10.30am
20 July.
Mexico/Guerrero 5.7 1.31am
Aleutian Islands 5.8 2.16am
West New Britain 6.0 6.30am
A strong burst of Pacific quakes have come through between two quake periods.
The quakes are mapped onto the Summary.
The Guerrero 5.7 was near to the Colima risk location but further inland.
More action at these locations seems possible when new solar conditions arrive today.
A new forecast will be posted for the remainder of 20 July onwards.


Content © Roary Arbon 2013 - 2016
Website Design by Go Tech.