Aotearoa Summary. 20 July 2018 - 22 July 2018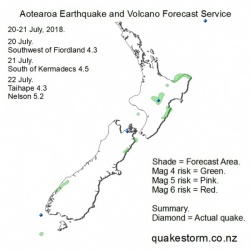 Click to Enlarge

Magnitude 4 risk locations are Snares Islands, George Sound, Milford Sound, Lower Hollyford, Upper Dart, Olivine Ranges, Lower Arawhata, Conway River, Ohau Point, Northern Seaward Kaikouras, Ward, Seddon, Cape Campbell, Southwest of Wanganui, Eketahuna, Dannevirke, Waipukurau, Hastings, Taihape, Ruapehu, Taupo, Rotorua, Opotiki, East Cape.
Volcanoes quiet.

Summary.
20 July.
West of Puysegur Point 4.3 2.41pm
21 July.
South of Kermadecs 4.5 2.07pm
22 July.
Northeast of Taihape 4.3 7.06am
Northeast of Nelson 5.2 (4.7 USGS EMSC) 3.14pm
Upper Dart River 3.6 10.51pm
This forecast had one great success, despite the Nelson 5.2 not being a risk location.
The Taihape 4.3 was right in the zone and first ever forecast success in this difficult location.
Adding Snares Islands to risk locations was probably justified by the offshore Fiordland 4.3.
The next biggest Fiordland quake was the Upper Dart 3.6.
The Nelson 5.2 was widely felt as a short sharp jolt but USGS only recorded 4.7 which is significantly smaller.
A rare phreatic mud explosion at tourist hotspot Waiotapu has never been seen before according to some locals.
Most Pacific volcanic zones are heated to some degree at present so geysers and geothermal areas will be running a little hot.
Rare multiple eruptions of famous Yellowstone Steamboat Geyser have also occurred this year.
Solar conditions continued for a day longer than expected, the big action coming slightly later than forecasted.
A forecast extension was obviously justified but never happened because of the rugby.


Content © Roary Arbon 2013 - 2016
Website Design by Go Tech.