Pacific Summary. 25 July 2018 - 26 July 2018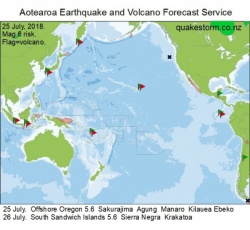 Click to Enlarge

Magnitude 6 risk locations are New Britain, Bismarck Sea, Northern Papua New Guinea, South Molucca Sea, East Java, Southern Kuril Islands, Aleutian Islands, Gulf of California, Colima, Bolivia, South Sandwich Islands.
Volcanic activity may increase.
Manaro, Bagana, Agung, Krakatoa, Ebeko, Pacacya, Sierra Negra, Kilauea, Piton de la Fournaise.

25 July.
Offshore Oregon 5.6 2.28am
Eruption Sakurajima, Agung, Manaro, Kilauea, Ebeko.
26 July.
South Sandwich Islands 5.6 7.45am
Eruption Sierra Negra, Krakatoa.
Solar conditions arrived on cue and the Pacific volcanic spell continued.
Quakes were subdued but one good location success from the biggest quakes.
USGS vulcanologists report an increase in lava flowing from Kilauea East Rift.
Aoba has now been apparently completely abandoned, including the previously ash free East Aoba.
Ashfall from Manaro has been steadily increasing since 20 June and Aoba is now blanketed in smothering ash.
A significant supermoon and lunar eclipse early on 28 July along with residual solar conditions could create a big Southern Hemisphere quake and increased Pacific volcanic activity.
A forecast map for 28 July will be posted soon.


Content © Roary Arbon 2013 - 2016
Website Design by Go Tech.