Aotearoa Summary. 12 August 2018 - 14 August 2018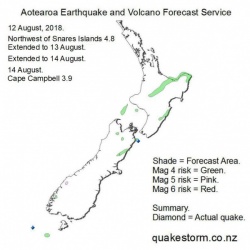 Click to Enlarge

Magnitude 5 risk location is Dart River,.
Magnitude 4 risk locations are Snares Islands, Lake Te Anau, Manapouri, Tapawera, South of Waverley, Conway River, Kaikoura, Cape Campbell, Dannevirke, Waipukurau, East Cape, Opotiki, Whakatane, Rotorua, Tokoroa, Atiamuri, Taumarunui, Taupo, Southwest of Taumarunui.
Volcanos quiet.
The forecast period is likely to be extended.

Update. 12 August 11.00pm
12 August.
120km Northwest of Snares Islands 4.8 2.35pm
MIld solar conditions arrived on cue.
The weak local quake trend in the last few months continues.
Sluggish background quake response to mild solar conditions but isolated bigger quakes such as the Snares 4.8.
The Snares Islands 4.8 justifies extra location risk south of New Zealand and a perfect hit.
Fiordland quakes have been quiet for several weeks.
Solar conditions are slowly weakening but could still have enough energy to drive residual quakes on 13 August.
The forecast period is extended to 13 August.
Fiordland, Dart River are higher risk.

Update. 14 August 12.00am
Local quakes were quiet on 13 August.
Persistent mild solar conditions during the period are challenging the forecast.
Unusual new seismic data for South Island and Taranaki Bight.
The forecast period is extended to 14 August.
Culverden, St Arnaud, West Taranaki Bight are added to Mag 4 risk locations.
Forecast confidence=low.
The period may blend into a new quake period early 16 August.

Summary.
12 August.
120km Northwest of Snares Islands 4.8 2.35pm
14 August.
Cape Campbell 3.9 + swarm 12.59am
Solar conditions arrived on time and were persistent but mild through the period.
The Snares 4.8 was an excellent location result when quake action south of New Zealand arrived early in the period.
Quakes eased on 13 August along with the mild solar conditions.
Unusual quakes prompted the 14 August extension and new risk locations.
Action soon followed with a quake swarm at Cape Campbell.
The Pacific three month volcanic period may have ended and quakes may be taking over again, big Alaska and Rinjani quake action last few days mark a sudden quake uptick.
A Pacific Forecast extension for 14 August was never made... the 14 August South Sandwich Islands 6.1 met time parameters but wasn't a in risk location.




Content © Roary Arbon 2013 - 2016
Website Design by Go Tech.