Pacific Summary. 12 August 2018 - 13 August 2018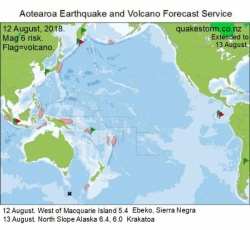 Click to Enlarge

Magnitude 6 risk locations are North of Macquarie Island, Tonga, Fiji, Northern Vanuatu, Makira, New Britain, Bismarck Sea, Northern Papua New Guinea, Banda Sea, East Timor, Rinjani, Central Sumatra, Molucca Sea, Eastern Honshu, Rat Islands, Tanzania.
Magnitude 4 risk location is Europe.
Volcanic activity may increase.
Manaro, Krakatoa, Sakurajima, Ebeko, Karymsky, Sierra Negra, Etna.
Volcanoes are likely to dominate the forecast period.
The period may be extended.

Update. 12 August 10.30pm
12 August.
West of Macquarie Island 5.4 12.15am
No data for volcanos...there seldom is on a Sunday.
Mild solar conditions arrived on cue.
The biggest Pacific quake, West of Macquarie 5.4 gives some justification for increasing risk locations south of New Zealand and Fiordland.
Kilauea remains quiet, justifying excluding the volcano from eruption risks.
Solar conditions simply don't seem strong enough to restart the eruption.
Solar conditions seem likely to remain weak in August, picking up in September.
September seems like a more likely month for the worlds largest volcano, Mauna Loa to erupt, if it erupts at all.
Solar conditions are fading but may still drive isolated residual quakes on 13 August.
The forecast period is extended to 13 August and is likely to end.

Summary.
12 August.
West of Macquarie Island 5.4 12.15am
Eruption Ebeko, Sierra Negra.
13 August.
North Slope Alaska 6.4 2.58am
North Slope Alaska 6.0 9.15am
Eruption Krakatoa
The forecast went looking for action in the SW Pacific and Indonesia but the action came in remote Northern Alaska.
Big Alaska quakes are common on the Pacific Rim but the North Slope 6.4, 6.0 double quake is near the North Pole where quakes are rare.
Alaskan seismologists say the previous biggest quake on the North Slope was a 5.2 in 1995.
The eruption at Kilauea hasn't restarted.
Mauna Loa forecast confidence has fallen slightly with the end of the Kilauea eruption so more observations seem necessary.
Solar conditions in August are typically weak and 2018 is no exception.
Solar conditions will pick up in September and possible action at Mauna Loa.
Rinjani seems to be moving into an aftershock sequence.
No data for Manaro.
Persistent mild solar conditions may continue through to a moderate quake peak early 16 August
Chile quakes have been unusually quiet for several weeks but Valparaiso may become active during the 16 August forecast period.





Content © Roary Arbon 2013 - 2016
Website Design by Go Tech.