Pacific Summary. 17 August 2018 - 20 August 2018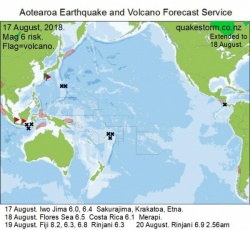 Click to Enlarge

Magnitude 6 risk locations are New Britain, Bismarck Sea, Ceram Sea, Molucca Sea, South Banda Sea, East Timor, Northern Sumatra, Nicobar Islands, Northern Myanmar, Southern Kuril Islands, Nicaragua, Valdivia, Valparaiso.
Magnitude 4 risk locations are Apennines, Balkans, Spain.
Volcanic activity may increase.
Kuchinoerabujima, Sakurajima.
A major volcanic period may be ending and a switch to quakes underway.
Kilauea, Piton de la Fournaise, Sierra Negra stopped erupting on 2 August and may remain quiet during the period.

Update. 18 August 9.30am (from Facebook/Roary Arbon)
The forecast period is extended to 18 August.
Solar conditions have unexpectedly picked up today.
A full update will be made soon.

Summary.
17 August.
Iwo Jima 6.0 6.21am
Iwo Jima 6.4 6.22am
Eruption Sakurajima, Krakatoa, Sakurajima.
18 August.
Flores Sea 6.5 3.15am
Costa Rica 6.1 11.22am
19 August.
Fiji 8.2 12.19pm
Fiji 6.3 12.23pm
Rinjani 6.3 4.10pm
Fiji 6.8 4.28pm
20 August.
Rinjani 6.9 2.56am
This is easily the biggest quake sequence ever observed at this Service.
More action seems very likely with the arrival of new solar conditions on 20 August.
The Java Volcanic Zone is extremely hot.
Krakatoa is steadily building up.
Merapi on Java has extruded lava.
Rinjani is quaking heavily.
The Rinjani quake sequence over the last few days has now ominously encircled half the volcano.
More big action seems likely at Rinjani and other locations very soon.
Be careful.




Content © Roary Arbon 2013 - 2016
Website Design by Go Tech.