Pacific Summary. 25 August 2018 - 31 August 2018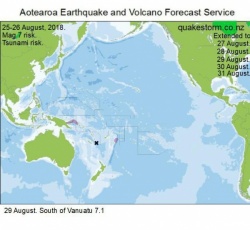 Click to Enlarge

This Mag 7 forecast is in addition to the 20-31 August, 2018 Pacific Mag 6 Forecast.

Magnitude 7+ and tsunami risk locations are New Britain, Bougainville, Pangai, Neiafu, Northeast of Neiafu.
Forecast confidence=low.
Solar quake driving conditions are weakening steadily but still have enough energy to drive a late isolated very big quake during the period.

Update. 26 August 12.00pm
No Mag 7 quakes so far in the later part of the wider 20-26 August forecast period.
Plenty of Mag 6 action though.
A big eruption of Manam in the Bismarck Sea indicates high pressure in the area.
Solar quake driving conditions are high again today, increasing the likelihood for a Mag 7 quake.
New risk locations keep being added to the Mag 6 forecast map.
Other areas could be added....Colima, Guerrero. The Mag 6 map is swamped with risk locations.
New Zealand remains a Mag 6 risk location.
The period is likely to be extended, quakes are still coming.
Be careful.

Update. 27 August 12.00am
Southeast of Pangai 5.3 7.26am
No Mag 7 quakes in the Pacific on 26 August.
Solar quake driving conditions are very strong, a major Pacific quake buildup is underwa
A quake release on 27 August is possible.
Risk locations are unchanged.
The substantial 25 August eruption of Manam near the western edge of the New Britain risk location is a good indicator for high tectonic pressure in the area.

Update. 28 August 1.00am
The Mag 7 map hasn't got much on it but the big 26-27 August aurora has only extended the period for a few more days and possibly even higher magnitude than earlier.
New Mag 7 risk locations Chile and Banda Sea could be added to the map but the forecast will hold to the present locations for now.
The Pacific is under heavy pressure.

Update. 29 August 12.00am
Mag 6 quakes and eruptions returned to the Pacific on 28 August following the 26 August aurora.
No Mag 7 though.
New risk locations seem to be appearing regularly, location confidence is falling.
Solar conditions are weakening today and likely to take 2-3 days to fade away.
The Pacific remains under heavy pressure.

Update. 30 August 12.00am
29 August.
South of Vanuatu 7.1 3.51pm
The first ever Pacific Mag 7 forecast map doesn't look so empty today.
The South of Vanuatu 7.1 was far south of the Erromango Mag 6 risk location though.
Mag 7 location confidence is low.
The quake is an indicator for more SW Pacific activity on 30 August.
The superlong quake period may run through to another peak on 1 September.

Update. 30 August 10.30pm
Pacific quakes were quiet on 30 August.
Solar conditions are weakening steadily ahead of a possible late peak on 1 September.
The forecast period is extended to 31 September.
Pacific quakes are likely to be very infrequent.

Summary.
29 August.
South of Vanuatu 7.1 3.51pm
7 September.
Fiji 7.8 3.49am
This first attempt at a Mag 7 forecast had some successes.
The South of Vanuatu 7.1 wasn't quite in the Erromango risk location but made an empty map look full.
The Mag 7 forecast was dropped as solar conditions weakened in early September but retaining the forecast was clearly a better option with the arrival of the Fiji 7.8.
Mag 7 seems very possible in the forecast period beginning 7-8 September, directly following the Fiji 7.8.


Content © Roary Arbon 2013 - 2016
Website Design by Go Tech.