Aotearoa Summary. 7 September 2018 - 10 September 2018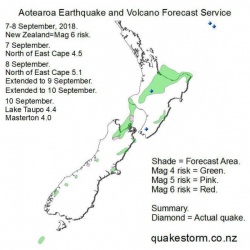 Click to Enlarge

Magnitude 5 risk locations are Central Taranaki Bight, St Arnaud, Murchison, Mt Cook.
Magnitude 4 risk locations are Snares Islands, Northwest Te Anau, Sutherland Sound, Dart River, Landsborough River, Otira, Rolleston, Culverden, Kaikoura, Seaward Kaikouras, Cape Campbell, Upper Wairau Valley, Motueka, Nelson, D'Urville Island, South Of Taranaki, Southern Taranaki, Taumarunui, Taupo, Murupara, Atiamuri, Tauranga, Rotorua, Opotiki, East Cape, White Island, Waipukurau, Dannevirke, Porangahau, Eketahuna.
Possibility Mag 6 New Zealand.

Update. 9 September 11.00am
7 September.
North of East Cape 4.5 12.50pm
8 September.
North of East Cape 5.1 1.58pm
Solar conditions arrived on cue but New Zealand quakes were sluggish in response.
Magnitude is high though, creeping up to Mag 5.
Luckily New Zealand hasn't had a major quake so far from the three week long Pacific quake spell.
Solar conditions are easing today but still enough to drive isolated quakes on 9 September.
High magnitude is possible.
A strong lunar perigee on 10 September may modulate quakes to low tide.
Be careful.

Update. 10 September 12.00am
Local quakes were quiet on 9 September following the weakening solar trend.
Pacific was also relatively quiet but the biggest Pacific quakes were just north of the Kermadecs.
Isolated local quakes are possible on 10 September ahead of a quake pickup late 11 September.
Local Mag 6 is possible during the massive ongoing Pacific quake period.

Update. 10 September 10.00am
10 September.
Western Lake Taupo 4.4 4.10am
Big quakes are in the Southwest Pacific. Big action north of New Zealand yesterday and Solomon Islands this morning.
New Zealand has escaped so far.
Hopefully any big action here will be very deep and not cause major damage at the surface.
The Lake Taupo 4.4 came right on low tide so lunar modulation may be present.
Solar quake driving conditions are weak and fluctuating today ahead of a pickup late 11 September.
Local quakes are likely to be isolated today but high magnitude is possible.
Local Mag 6 is possible.
Be careful.

Summary.
7 September.
North of East Cape 4.5 12.50pm
8 September.
North of East Cape 5.1 1.58pm
10 September.
Western Lake Taupo 4.4 4.10am
West of Masterton 4.0 6.27pm
The South of L'Esperance Rock 6.9 gives justification to the local Mag 6 risk.
The quake was too small and deep to create a tsunami.
Strong new solar quake driving conditions have arrived early as this summary is posted.
A new forecast for 11 September is being processed.
Three quake forecast services have latched this quake and other quakes today and during the previous weeks.
One forecaster, Dutchsinse has gone viral on Internet tonight and the NZ Government is taking steps to shut him down.
9/11 will be an interesting day, hopefully this Service will still be here tomorrow night and any big local quakes stay out west.
Be careful.





Content © Roary Arbon 2013 - 2016
Website Design by Go Tech.