Pacific Summary. 4 October 2018 - 7 October 2018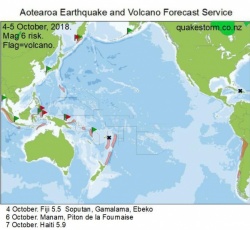 Click to Enlarge

Magnitude 6 risk locations are South of Kermadec Islands, Kermadec Islands, Tonga, South of Fiji, Fiji, Northern Vanuatu, Guadalcanal, New Britain, South Banda Sea, Timor, Offshore Central Java, Sumatra, Sulawesi, Molucca Sea, Northern Marianas Islands, Southern Kamchatka Peninsula, Atacama, Vallenar, Valparaiso, South of Valdivia.
Possibility Mag 7 Pacific. Tonga, Fiji. Mag 7 confidence=low.
Volcanic activity may increase.
Piton de la Fournaise, Etna, Manaro, Manam, Soputan, Krakatoa, Barren Island, Sakurajima, Ebeko, Veniaminof.

Update. 5 October 10.00am
4 October.
Fiji 5.5 5.16pm
Eruption Soputan, Gamalama, Ebeko.
Solar conditions arrived on cue but are weak.
Stronger solar conditions are necessary to drive major quakes.
A big equatorial quake is still possible, the Southwest Pacific has been very disturbed for weeks and anything could happen, regardless of solar conditions.
The biggest quake so far in the period is still right on the biggest hotspot and significant.
Indonesian volcanoes are hot.
Continuing eruptions in the Sulawesi, Molucca Sea area indicate a volcanic period so far.
There is a link between the Sulawesi 7.5 and the eruptions of Soputan and Gamalama.
The Molucca Sea risk location is right between the two eruptions.
More volcanic data may come in later, it often takes a day or two to filter through from remote locations.

Summary.
4 October.
Fiji 5.5 5.16pm
Eruption Soputan, Gamalama, Ebeko.
6 October.
Eruption Manam, Piton de la Fournaise.
7 October. Haiti 5.9
Solar conditions arrived on cue but were much weaker than expected.
Pacific quakes were quiet during the period.
Pacific volcanos took up the action and were very active.
Major eruption at Manam, big blast and lava.
The eruption of Piton de la Fournaise began on 15 September and increased dramatically at the beginning of the forecast period.
Apparently Soputan and Gamalama are subdued, more data may arrive later from the remote areas.
Vulcanologists at Kilauea have lowered the alert level after several weeks of quiet conditions with no sign of lava or reinflation.
Mauna Loa is quiet but the possibility for an eruption in the next few weeks exists.
Sulawesi had no Mag 6 aftershocks. Over 2000 people are buried forever under the tsunami which wiped the coast.




Content © Roary Arbon 2013 - 2016
Website Design by Go Tech.