Pacific Summary. 13 October 2018 - 22 October 2018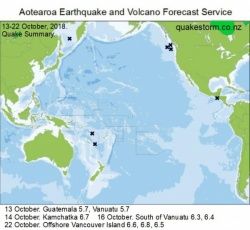 Click to Enlarge

No forecast was offered for the period.

Summary.
13 October.
Guatemala 5.7
Northern Vanuatu 5.7
14 October.
Northwest of Kamchatka/Sea of Okhotsk 6.7
16 October.
South of Vanuatu 6.4, 6.3
22 October.
Offshore Vancouver Island 6.6, 6.8, 6.5
Solar conditions faded away on 13 October but Pacific quakes were still in a release phase.
Most quake locations are a good fit to the 8-12 October forecast map.
The addition of Latin America risk locations to the 8-12 October map left out Guatemala.
Northern Vanuatu 5.7 fitted the previous map.
The Kamchatka 6.7 continued the heavy action in the area.
The South of Vanuatu 6.4, 6.3 double quake continues months of heavy action in this location.
Solar conditions arrived unexpectedly on 22 October and the big Vancouver Island sequence followed...the previous forecast was looking for action further south at Offshore Oregon but not close enough to be a location success.
New solar conditions are expected on 24 October.
The early unexpected arrival of solar conditions on 22 October may fade on 23 October before strengthening again.
The forecasters have decided to wait until late 23 October before making a new forecast.



Content © Roary Arbon 2013 - 2016
Website Design by Go Tech.