Pacific Summary. 19 November 2018 - 24 November 2018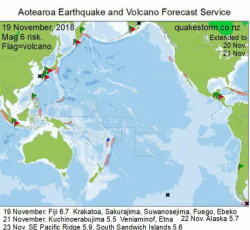 Click to Enlarge

Magnitude 6 risk locations are South of Kermadecs, Kermadec Islands, Tonga, South of Fiji, New Britain, Molucca Sea, Sumatra, Marianas Trench, Guam, Philippines, Southern Honshu, Izu Islands, Kamchatka Peninsula, East of Kamchatka, Offshore Oregon, Baja California, Cuba, Haiti, Dominica, South Sandwich Islands, Northern Italy, Svalbard.
Volcanic activity may increase.
Krakatoa, Mayon, Kuchinoerabujima, Sakurajima, Suwanosejima, Ebeko, Shiveluch, Veniaminof, Fuego, Pacaya, Villarrica, Etna.

Update. 19 November 10.00am
19 November.
Fiji 6.7 9.25am
A big deep Fiji quake has created a quakestorm into New Zealand today.
Not a good sign to start the period.

Update. 20 November 2.30pm
19 November.
Eruption Krakatoa, Sakurajima, Suwanosejima, Ebeko, Fuego.
Mexican volcano Popocatepetl and other volcanos are hot.
Solar conditions were sluggish on 19 November but have picked up today.
Quakes seem to be giving way to eruptions as the period goes heavily volcanic.
Indonesian vulcanologists report a big eruption at Krakatoa...more news will come later.
The deep Fiji 6.7 is isolated so far.
Quakes now seem likely to be isolated during the period but high magnitude is still possible.
The forecast period is extended to 20 November.
Major storms around the world last few days are due to auroral driven jetstream shifts pulling cold polar air far toward the equator.

Update. 20 November 11.00pm
Pacific quakes were below Mag 6 as the period remains volcanic.
Fuego has gone off with pyroclastic flows, ashfall and a rapid evacuation of locals to tent cities.
A big quake swarm tonight under Etna could result in a resumption of lava after just a few days quiet.
Solar conditions are fluctuating enough to keep volcanos active on 21 November.
Isolated Pacific quake activity is possible.

Summary.
19 November.
Fiji 6.7 9.25am
Eruption Krakatoa, Sakurajima, Suwanosejima, Ebeko, Fuego.
21 November.
Kuchinoerabujima 5.5 7.09am
Eruption Etna, Veniaminof.
22 November.
Southern Alaska 5.7 7.21am
23 November.
Southeast Pacific-Antarctic Ridge 5.9 5.07am
South Sandwich Islands 5.6 11.51pm
Solar conditions arrived on cue but were only moderate.
The deep Fiji 6.7 followed soon after the onset of solar conditions.
Quakes then went quiet, confounding the forecasters.
When quakes are quiet, volcanoes are often active and this period was a good example.
Big eruptions at Krakatoa, Fuego, Veniaminof and other volcanos active.
Whatever the cause for the switch from quakes to volcanos remains a mystery here but a few uproven theories have hit the trash can over several years in the quest for answers.
A big Mag 5.5 quake under Kuchinoerabujima was ominous but the volcano didn't erupt during the period.
Kuchinoerabujima and other nearby volcanos are hot and likely to remain risk locations in future forecast periods.
The forecast was dropped on 22 November as solar conditions faded.
The biggest quakes on 22-24 November were below Mag 6 and are plotted on the map.
A brief moderate quake and eruption period is possible on 28 November and may include the Kermadec Islands and Tonga.



Content © Roary Arbon 2013 - 2016
Website Design by Go Tech.