Aotearoa Summary. 28 November 2018 - 30 November 2018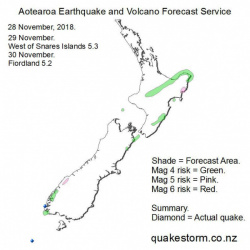 Click to Enlarge

Magnitude 5 risk locations are Pyke River, Cascade River, Gisborne.
Magnitude 4 risk locations are Puysegur Point, Te Anau, Kaikoura, Cape Campbell, South of Wellington, West Taranaki Bight, Eketahuna, Dannevirke, Castlepoint, Porangahau, South of Wairoa, East Cape, Eastern Bay of Plenty, Rotorua, Tokoroa, Taupo, Taumarunui.
Volcanoes quiet.

Summary.
29 November.
West of Snares Islands 5.3 2.00am
30 November.
Fiordland/Resolution Island 5.2 5.17pm
The forecast went looking for Fiordland action and despite a moderate Pacific quake period, a decent Fiordland quake came.
Solar conditions arrived on cue but local quakes were slow to respond.
The West of Snares 5.3 fell very early 29 November.
The forecast wasn't updated on 29 November as Pacific quakes and moderate solar quake driving conditions eased.
The Resolution Island 5.2 followed on 30 November, slightly north of the Puysegur Point risk location but outside the forecast period.
North Island quakes were subdued during the summary period.
Data indicates a new quake period beginning late 1 December may be substantially stronger and possibly in the North Island.
The forecasters are debating whether a return to Mag 6 risk is justified only a month after the Taumarunui 6.2 (first local Mag 6 since the Kaikoura quake).
A new forecast will be posted soon.

Content © Roary Arbon 2013 - 2016
Website Design by Go Tech.