Pacific Summary. 28 November 2018 - 30 November 2018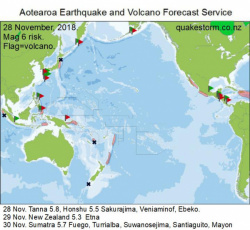 Click to Enlarge

Magnitude 6 risk locations are South of Kermadec Islands, Kermadec Islands, Tonga, Tanna, Bougainville, New Britain, South Banda Sea, Molucca Sea, Northern Sumatra, Eastern Honshu, Gulf of California, Colima, Guerrero, Haiti, Dominica.
Volcanic activity may increase.
Krakatoa, Karangetang, Mayon, Kuchinoerabujima, Sakurajima, Suwanosejima, Ebeko, Veniaminof, Popocatepetl, Fuego, Turrialba, Etna.
Mauna Loa quiet.

Summary.
28 November.
Atlantic Ocean 5.8 1.03am
Northeast Honshu 5.5 3.23pm
Southeast of Tanna 5.8 4.41am
Eruption Sakurajima, Veniaminof, Ebeko.
29 November.
New Zealand/West of Snares Islands 5.3 3.00pm
Eruption Etna.
30 November.
Northern Sumatra 5.7 9.21am
Eruption Turrialba, Fuego, Suwanosejima, Mayon, Santiaguito.
Heavy volcanic activity marked the period.
Quakes were under Mag 6 but the biggest quakes which are plotted onto the map gave good location success.
Moderate solar conditions arrived on cue.
Quakes soon followed in the very active Atlantic Ocean (the most we have ever seen for the Atlantic) and risk locations Tanna and Honshu.
Volcanos continued their ongoing eruptions...not rocket science for forecast picks.
The forecast wasn't updated on 29 November as quakes dropped away.
The biggest 29 November Pacific quake was a Snares aftershock.
Quakes remain subdued on 30 November but the biggest was again in a risk location, North Sumatra.
Volcanos rumbled on 30 November.
Many eruptions in Western Pacific and Latin America risk locations
Etna increased activity during the period.
An undersea eruption may be underway somewhere in or north of the Kermadecs...maybe Monowai.
There is unlikely to be any data confirming an eruption of remote Monowai unless the volcano erupts pumice and a plane or ship passes the area.
A stronger period is due late 1 December.




Content © Roary Arbon 2013 - 2016
Website Design by Go Tech.