Pacific Summary. 24 December 2018 - 29 December 2018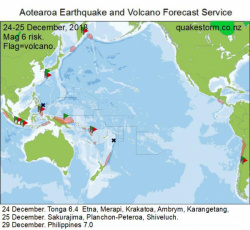 Click to Enlarge

Magnitude 6 risk locations are South of Kermadec Islands, Kermadec Islands, South of Tanna, Northern Vanuatu, Makira, Guadalcanal, New Britain, New Ireland, Bismarck Sea, Northern Papua New Guinea, Molucca Sea, South Banda Sea, Central Sumatra, Central Kuril Islands, East of Kamchatka Peninsula, Nicaragua, El Salvador, Atacama, Vallenar, Valparaiso.
Possibility Mag 7 New Britain. Confidence=low.
A Fiji, Tonga update may be added later in the period.
Volcanic activity may increase.
Ambrym, Manam, Merapi, Krakatoa, Karangetang, Kuchinoerabujima, Sakurajima, Shiveluch, Planchon-Peteroa, Etna.
The period may be volcanic. Eruptions already under way at many volcanos may continue or increase.
A Hawaii update may be added later in the period.
Moderate solar quake and eruption driving conditions may arrive late on 24 December.

Summary.
24 December.
Pangai 6.4
Eruption Etna, Merapi, Ambrym, Krakatau, Karangetang.
25 December.
Eruption Planchon-Peteroa, Shiveluch.
29 December.
Philippines 7.0
The massive December Mag 7 quake spell was running out of energy as this forecast was posted but still had enough for one more Mag 7 in December.
Volcanos were very active as the quake spell ended. Eruptions usually follow quakes.


Content © Roary Arbon 2013 - 2016
Website Design by Go Tech.