Aotearoa Summary. 3 February 2019 - 6 February 2019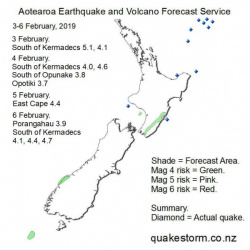 Click to Enlarge

Magnitude 5 risk location is Porangahau.
Magnitude 4 risk locations are Waipukurau, Dannevirke, Eketahuna, Masterton, Palliser Bay, South of Wanganui, Snares Islands, North of Milford Sound, Haast.
Volcanoes quiet.
The 3 February 3.03am Porangahau 4.3 occurred before this forecast was posted.
A significant quake swarm is ongoing at Porangahau and may lead to larger activity.
No detailed Pacific forecast is offered. Central Offshore Sumatra, Solomon Islands, Tonga, Southern Chile are higher risk locations.

Summary.
This Summary is posted on 4 March. Data wasn't kept at times in January as the forecasters took a holiday.
Quakes were very quiet in January, following the massive December 2018 Mag 7 quake spell and Krakatoa eruption and tsunami.
January is typically quieter for quakes due to the changing position of Earth in relation to the Solar Ecliptic Plane.
3 February.
South of Kermadecs 5.1, 4.1
4 February.
South of Kermadecs 4.0, 4.6
South of Opunake 3.8 10.15am
Opotiki 3.7 6.42pm
5 February.
East Cape 4.4 5.04pm
6 February.
South of Kermadecs 4.1, 4.4, 4.7
Porangahau 3.9 5.21am

Moderate solar conditions arrived on cue, the first in several weeks.
Quakes never got to Mag 4 in New Zealand during the period, solar conditions were too weak.
The 6 February Porangahau 3.9 gave some credit to a weak quake response.
Leaving regularly forecasted East Cape, Opotiki risk locations out so as to highlight Porangahau was a mistake.
Regular ongoing deep quakes north of New Zealand began soon after the August 19, 2018 Fiji 8.2 and seem likely to lead to volcanic activity in the Kermadec Islands undersea volcanic chain, followed by action in New Zealand.
Geonet data for the South of Kermadecs series is inaccurate, depths and magnitudes are all over the place and well out of sync. with other seismic services with better networks.
The Geonet seismograph array doesn't measure offshore quakes accurately and isn't the fault of the seismologists.


Content © Roary Arbon 2013 - 2016
Website Design by Go Tech.