Pacific Summary. 20 February 2019 - 22 February 2019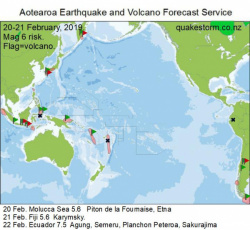 Click to Enlarge

Magnitude 7 risk location is Bismarck Sea.
Magnitude 6 risk locations are Kermadec Islands, South of Fiji, Fiji, Vanuatu, Sumba, Northern Sumatra, Molucca Sea, South of Taiwan, Kyushu, Southern Honshu, Kamchatka Peninsula, Southern Chile, South Sandwich Islands.
Volcanic activity may increase.
Ambrym, Manam, Agung, Merapi, Krakatoa, Karangetang, Dukono, Sakurajima, Suwanosejima, Karymsky, Planchon Peteroa, Villarrica, Nevados de Chillan, Bristol Island, Etna.
An eruption at Piton de la Fournaise has begun just prior to the posting of this forecast.
Eruptions may dominate the period.
Lunar modulation may focus quakes or eruptions around low tide.
Cyclone Oma, passing near New Caledonia, may rapidly gain intensity.

Summary.
20 February.
South Molucca Sea 5.6 1.10pm
Eruption Piton de la Fournaise, Etna.
21 February.
South of Fiji 5.6 7.34pm
Eruption Karymsky.
22 February.
Inland Ecuador 7.5 11.40pm
Eruption Agung, Semeru, Sakurajima, Planchon Peteroa.
This forecast went looking for the first Mag 7 quake since the 29 December, 2018 Philippines 7.0.
The Ecuador 7.5 was deep and caused no damage.
The forecasted Mag 7 risk location in the Bismarck Sea was totally quiet.
The next biggest Pacific quakes are listed and in risk locations giving some credit to the forecast.
More Mag 7 activity may arrive on 28 February with the arrival of new solar conditions and a possible Mag 7 quake cluster.
Shield volcano Piton de la Fournaise is in strong eruption.
The eruption began just prior to the onset of solar conditions and is producing a strong river of lava.
The volcano erupted 4 times in 2018 which was unusually large. One eruption or no eruptions in a year were normal until 2018.
Java Zone volcanos were hot.
Agung let off a big puff of ash and also nearby Semeru on East Java.
Krakatoa is quiet following the 22 December eruption and tsunami.
Merapi is constantly in low level pyroclastic eruption phase as big blocks of viscous lava break off from the ever expanding summit lava dome.
Etna has been in a state of near constant eruption for three months.
Eruptions at Etna seem likely to increase as Little Ice Age solar eruption driving conditions increase in 2019.
Eruptions at all volcanos were only moderate but a new forecast period on 28 February could see an increase in the intensity of eruptions.
Cyclone Oma never gained intensity and has largely fizzed out after delivering New Zealand a welcome drenching following a month at least of hot dry weather.






Content © Roary Arbon 2013 - 2016
Website Design by Go Tech.