Aotearoa Summary. 1 March 2019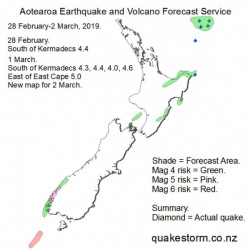 Click to Enlarge

Magnitude 6 risk location is Snares Islands.
Magnitude 5 risk location is West of Te Anau, Milford Sound.
Magnitude 4 risk location is Southern Fiordland, Pyke River, Cascade River, Dannevirke, Waipukurau, Hastings, South of Wanganui, North of D'Urville Island, Northern Hawkes Bay, East Cape, Northeaast of East Cape, Eastern Bay of Plenty, Rotorua, South of Kermadecs.
Volcanos quiet.
The forecast period may be extended.

Update. 2 March 12.30am
28 February.
South of Kermadecs 4.4 8.12pm
1 March.
South of Kermadecs 4.3 1.18am
South of Kermadecs 4.4 2.30am
East of East Cape 5.0 8.55am
South of Kermadecs 4.0 7.41pm
South of Kermadecs 4.6 9.13pm
Big action has arrived in the New Zealand region with the onset of a powerful quake period.
The Macquarie Island 5.9 far to the south of New Zealand along with the East Cape 5.0 today indicates heavy pressure.
Solar quake driving conditions were strong today and look likely to last at least another couple of days.
More quakes are possible 2-4 March around New Zealand.
A new map for 2-4 March is posted with identical risk locations but Magnitude risk has gone up.
Steady Mag 4/5 rumbling north of New Zealand is almost an everyday occurrence in 2019.
This persistent activity began a few weeks after the very deep 19 August 2018 Fiji 8.2 quake and an ominous sign for the future as the Little Ice Age now upon us since 2017 ramps up with attendant big quakes and eruptions.
Future forecast summaries may exclude these quakes because they are so numerous.
Additionally, Geonet data for South of the Kermadecs is consistently inaccurate in Magnitude and depth.
The Geonet seismograph network array is poorly positioned to accurately measure offshore quakes so these inaccuracies are to be expected and no fault of the seismologists who collect the data.


Content © Roary Arbon 2013 - 2016
Website Design by Go Tech.