Pacific Summary. 15 March 2019 - 17 March 2019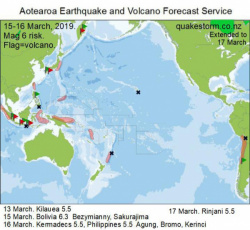 Click to Enlarge

Magnitude 6 risk locations are Kermadec Islands, South of Kermadec Islands, Vanuatu, Bismarck Sea, Northern Papua New Guinea, Banda Sea, Ceram Sea, South Molucca Sea, Northern Sumatra, North of Philippines, Taiwan, Marianas Trench, Southern Peru, Atacama, Valparaiso.
Volcanic activity may increase.
Semeru, Agung, Bromo, Kerinci, Mayon, Sakurajima, Shiveluch, Planchon-Peteroa, Piton de la Fournaise.
Piton de la Fournaise confidence=low.
West Java volcano Merapi is in constant eruption as small pyroclastic flows regularly break off from the growing summit dome.
Merapi isn't shown on the forecast map to avoid cluttering.
Seismologists at Mauna Loa may announce an increase in quakes.
Risk locations may be changed prior to the arrival of solar conditions, expected early on 15 March.

Update. 14 March 9.00pm
13 March.
Kilauea/South of Pu'u O'o 5.5 11.55pm
A significant rumble has occurred at Kilauea East Rift, near Pu'u O'o.
The 15-16 March Pacific Forecast outlook for seismologists to announce an increase in quakes at Mauna Loa has been given some early credit, coming soon after the forecast is posted.
Kilauea isn't Mauna Loa and 13 March isn't 15 March so there is plenty of room for the sceptics.
The quake was widely felt.
New solar conditions due within a day could bring more quakes at Kilauea and Mauna Loa.
Kilauea erupted in 2018 so hardly seems likely to erupt again soon?
Mauna Loa on the other hand has been slowly inflating for 35 years and is due for an eruption.
Could Mauna Loa, the world's largest volcano, join the long list of very recent shield volcano eruptions?
Watch out for an increase in quakes at Mauna Loa in the next days or weeks.
Risk locations are unchanged as this update is posted but could change as solar conditions arrive.
Note. All forecast and quake times are given in New Zealand Standard Time NZST.
NZST is 13 hours ahead of Coordinated Universal Time UTC, changing to 12 hours ahead from 7 April when NZ daylight saving ends and clocks are put back one hour.

Update. 15 March 8.00pm
15 March.
Central Bolivia 6.3 6.03pm
Solar quake driving conditions have arrived on cue.
Immediate quake response in Bolivia but the 350km deep quake has caused no damage at the surface.
Eastern Honshu is added to Mag 6 risk locations.
Central Sumatra is raised to Mag 7 risk. Confidence=low.
An update for Mauna Loa/Kilauea will be posted soon.

Update. 17 March 12.00pm
15 March.
Eruption Bezymianny, Sakurajima.
16 March.
North of Raoul Island 5.5 6.53am
Mindanao/Philippines 5.5 12.07pm
Eruption Bromo, Agung, Kerinci.
The forecast period has become very volcanic.
Quakes fell away on 16 March, the biggest quakes came in or near forecast risk locations.
Indonesian volcanos are smoking hot with puff emissions or steady ash plume at Bromo.
Kamchatka Peninsula volcano Bezymianny has let go a big eruption.
Solar conditions were mild early in the period, picking up slightly today.
The forecast period is extended to 17 March.
The period seems likely to extend right up to a new and possibly much stronger period on 20 March which will have lunar influence added.
Pacific Mag 6 is possible next two days although quakes are likely to be isolated ahead of the 20 March quake uptick.
Indonesian volcanos may also puff along slowly ahead of an eruption uptick on 20 March.
Sumatra remains a quake hotspot although Mag 7 confidence is low.
Mauna Loa and Kilauea are quiet today and unlikely to change before 20 March.

Summary.
13 March.
Kilauea/South of Pu'u O'o 5.5 11.55pm
15 March.
Central Bolivia 6.3 6.03pm
Eruption Bezymianny, Sakurajima.
16 March.
North of Raoul Island 5.5 6.53am
Mindanao/Philippines 5.5 12.07pm
Eruption Bromo, Agung, Kerinci.
The period was very volcanic.
Java Zone eruptions were all low level along with moderate solar conditions.
The Rinjani 5.5 seems ominous given so many other volcanos in the region are smoking hot.
Sadly two Malaysian tourists walking on the beautiful volcano were killed by a rockfall during the quake.
Quakes were moderate during the period, good location success.
The Bezymianny eruption was a big stratospheric blast.
Kamchatka Peninsula is hot.
A new forecast period is being processed as this summary is posted.

Content © Roary Arbon 2013 - 2016
Website Design by Go Tech.