Aotearoa Summary. 15 March 2019 - 17 March 2019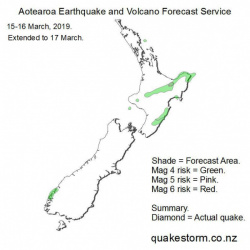 Click to Enlarge

Magnitude 5 risk locations are Tarawera, Kawerau.
Magnitude 4 risk locations are Offshore Whangarei, East Cape, Opotiki, Tokoroa, Atiamuri, Taupo, Taumarunui, East of Taranaki, South of Opunake, Wairoa, Waipukurau, Porangahau, Dannevirke, Eketahuna, Te Anau, Nancy Sound.
Volcanos quiet.
This forecast is posted early. Risk locations may be changed prior to the expected arrival of solar conditions early 15 March.

Update. 17 March 12.00pm
Local quakes are quiet during the period.
Pacific quakes have been subdued during the period.
This forecast was posted on 13 March, too early.
Forecast data is tenuous on any forecast but posting two days early was a mistake.
Solar conditions were mild early in the period but have picked up today and likely to remain until a new and more powerful period including lunar modulation arrives 20 March.
The forecast period is extended to 17 March.
Risk locations and magnitudes are changed in an attempt to patch up the early posting mistake.
Tarawera, Kawerau are reduced to Mag 4 risk.
Masterton, Castlepoint are added to Mag 4 risk locations.

Summary.
No Mag 4 quakes in New Zealand during the period.
This forecast was a flop.
Pacific quakes were generally subdued during the period as conditions turned volcanic.
The huge number of Mag 4 quakes north of New Zealand are no longer being recorded or plotted on the map.
Many of these quakes are easily fooling the Geonet seismic network which isn't configured to locate offshore quakes.
Geonet locations and magnitudes are all over the place and completely unreliable. This isn't the fault of the seismologists.
A new forecast for 20 March is being processed as this summary is posted.


Content © Roary Arbon 2013 - 2016
Website Design by Go Tech.