Pacific Summary. 20 March 2019 - 23 March 2019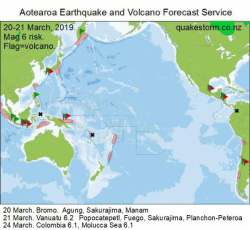 Click to Enlarge

Magnitude 6 risk locations are Kermadec Islands, Northern Vanuatu, Bismarck Sea, South Banda Sea, Timor, Northern Sumatra, Taiwan, Eastern Honshu, Kamchatka Peninsula, Northern Kuril Islands, Atacama, Vallenar, Southern Chile.
Volcanic activity may increase.
Manam, Agung, Bromo, Merapi, Anak Krakatau, Kerinci, Mayon, Sakurajima, Asosan, Bezymianny, Shiveluch, Popocatepetl, San Cristobal, Plenchon-Peteroa.
Indonesian volcanos are hot and may get hotter during the period.

Update. 21 March 10.00am
20 March.
Eruption Bromo.
21 March.
Vanuatu 6.2 4.23am
Solar quake and eruption driving conditions have arrived on cue but are much weaker than expected.
Excellent location success so far.
Bromo is now in a constant state of eruption as Java Zone volcanos remain very heated and seismologists have closed the volcano to tourists.
More action is possible during the period, especially volcanos, despite weak solar conditions.
Lunar influence is also present during this forecast period and may amplify the mild solar conditions.
Tonga is added to Mag 6 risk locations.

Summary.
20 March.
Eruption Bromo, Agung, Manam.
21 March.
Vanuatu 6.2 4.23am
Eruption Sakurajima, Popocateptl, Fuego, Planchon-Peteroa
23 March.
Northern Colombia 6.1 8.21am
Molucca Sea 6.1 5.37pm
Solar quake and eruption driving conditions arrived on cue but were mild right through the period.
The deep Vanuatu 6.2 early in the period gave excellent location success but quakes were subdued as volcanos continued their recent dominance over quakes.
Many eruptions during the period although nothing big.
A supermoon during the period (where perigee and full moon coincide) has cooked up two Cat 4 cyclones over Australia.
Not adding a weather element to the forecast was a big mistake.
Lunar influence can't drive quakes and eruptions without solar influence but the same isn't true for weather.
The moon can drive weather events without the primary driving force of the sun.
Cyclones Veronica and Trevor seem set to deliver a deluge to central and northwest Australia as this summary is posted.
Late quake action arrived on 23 March, after the forecast was dropped.
The quakes are plotted on the map but were outside the forecast period and risk locations.
Solar conditions were much weaker than anticipated during the period but new solar conditions are just around the corner.
A new forecast period begins 27 March.


Content © Roary Arbon 2013 - 2016
Website Design by Go Tech.