Aotearoa Summary. 1 April 2019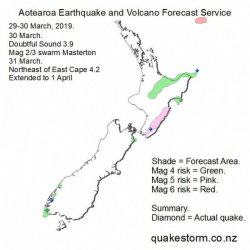 Click to Enlarge

Magnitude 6 risk location is South of Kermadecs.
Magnitude 5 risk locations are Waipukurau, Dannevirke, Porangahau, Eketahuna, Castlepoint, Masterton, Lake Palliser, Turakirae Head.
Magnitude 4 risk locations are Northeast of East Cape, East Cape, Opotiki, White Island, Whakatane, Tauranga, Rotorua, Tokoroa, Taupo, Taumarunui, Wairoa, Northern Hawkes Bay, North of Cape Campbell, Cape Campbell, Lower Hollyford River, Tutoko, West of Te Anau, Puysegur Point, South of Puysegur Point.
Possibility Mag 6 New Zealand. Confidence=low.
Volcanos quiet.
The forecast period is likely to be extended.

Update. 31 March 1.30pm
30 March.
Doubtful Sound 3.9 12.54pm
Mag 2/3 swarm Masterton
31 March.
Northeast of East Cape 6.35am
A very tricky forecast period is unfolding in New Zealand.
Moderate quake driving solar conditions have arrived on cue.
Moderate quakes have arrived in typical Little Ice Age isolated pattern.
A significant Mag 2/3 quake swarm came early in the period just north of Masterton.
South Wairarapa is infrequently forecasted and has in the past not been very successful as a forecast location.
The Masterton quake swarm isn't a regular occurrence.
The Masterton quake swarm may be an indication of building activity or may die away.
Moderate new solar conditions expected late on 1 April may create another Masterton quake swarm.
Magnitude confidence at Masterton is low.
The forecast period is extended to 1 April.
Risk locations are unchanged.
Note. Many Mag 4 quakes South of Kermadecs during the period are ongoing and no longer recorded or plotted onto the map, there are too many.
Additionally, Geonet location and magnitude data for South of Kermadecs is unreliable.

Summary.
30 March.
Doubtful Sound 3.9 12.54pm
Mag 2/3 swarm Masterton
31 March.
Northeast of East Cape 4.2 6.35am
Paekakariki 3.6 7.46pm
1 April.
Southwest of Snares Islands 4.5 9.39pm
This forecast had some good but slightly ominous successes.
Moderate solar conditions arrived on cue, increasing late on 1 April.
The biggest quakes in Wairarapa Mag 5 risk location were an uncommon Mag 2/3 quake swarm at Masterton.
Southern Wairarapa is infrequently forecasted so the swarm is significant.
The Masterton swarm was followed a day later by the strongly felt Paekakariki 3.6.
Heavy pressure seems to be building in the New Zealand region.
The forecast period is therefore extended to 2 April with increased Magnitude risk and similar but slightly extended risk locations.


Content © Roary Arbon 2013 - 2016
Website Design by Go Tech.