Ruapehu Hot. 10 April 2019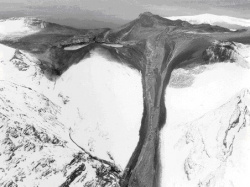 Click to Enlarge

Vulcanologists have announced that the crater lake at Ruapehu is 42C and getting hotter.
North Island is under pressure with the Gisborne slow slip event, a couple of minor quake swarms at Turangi and now a heated crater lake at Ruapehu.
Sadly the experts can see no link and will say the events are unrelated.
They could see no link between the July 2012 Kermadecs/Havre eruption, the 5 August, 2012 White Island eruption and the 6 August, 2012 Tongariro eruption either....
Frustratingly, the vulcanologists don't release daily lake temperature data to the public.
Regardless, the forecasts from this Service have got ahead of a couple of heating cycles at Ruapehu.
The only successful eruption forecast at Ruapehu was when French geophysicist Claude Blot, working from his base in Vanuatu, announced in 1969 that an eruption could happen.
Boom.
Thanks.

Content © Roary Arbon 2013 - 2016
Website Design by Go Tech.