Aotearoa Summary. 12 April 2019 - 14 April 2019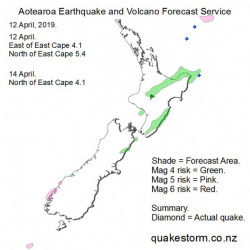 Click to Enlarge

Magnitude 5 risk locations are Southwest of Snares Islands, Doubtful Sound, Nancy Sound, Tutoko, South of Kermadecs.
Magnitude 4 risk locations are Haast, Hanmer, Kaikoura, Cape Campbell, Southern Wairarapa, Northern Wairarapa, South of Wanganui, Taumarunui, Tokoroa, Rotorua, Whakatane, Opotiki, White Island, East Cape.
Heating at Ruapehu likely to continue.
Possible quake swarm, degassing, minor steam eruption at Ruapehu is more likely from 15 April.
Possible quake swarm Turangi.
The period is likely to continue for several days.

Summary.
12 April.
100km East of East Cape 4.1 10.20am
North of East Cape 5.4 3.34pm
14 April.
North of East Cape 4.1 7.16am
Heavy pressure on North Island Volcanic Plateau during the period.
Vulcanologists at Ruapehu have made no more announcements about the 0.5C per day rapid heating at the crater lake since 10 April.
Lake temperature data isn't available to the public.
Solar conditions eased slightly during the period.
Data shows heating at Ruapehu is still underway and has possibly stabilised today.
New solar conditions due late 15 April may cause heating to increase again.




Content © Roary Arbon 2013 - 2016
Website Design by Go Tech.