Aotearoa Summary. 15 April 2019 - 22 April 2019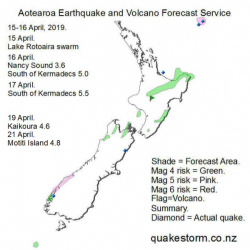 Click to Enlarge

Magnitude 5 risk locations are Nancy Sound, George Sound, Tutoko, Cascade River, Lower Arawhata, Haast, Paringa, South of Kermadecs.
Magnitude 4 risk locations are Southwest of Snares Islands, Doubtful Sound, Te Anau, Buller, Murchison, Kahurangi, St Arnaud, Nelson, D'Urville, Southwest of Wanganui, Masterton, Eketahuna, Dannevirke, Waipukurau, Porangahau, East Cape, White Island, Opotiki, Whakatane, Rotorua, Tokoroa, Taupo, Murupara, Taumarunui.
Heating at Ruapehu may increase. Quake swarms, degassing, steam eruption are possible.
Lunar modulation may center quakes around low tide.

Update. 16 April 10.00am
15 April.
Lake Rotoaira quake swarm.
16 April.
Nancy Sound 3.6 6.47am
South of Kermadecs 5.0 7.46am
Solar quake driving conditions arrived late on 15 April and a quake swarm at Lake Rotoaira (just north of Tongariro) soon followed.
The solar windstream driving the action is very mild.
Good location success with the biggest quakes during the period so far.
Vulcanologists at Ruapehu haven't made any announcements on the temperature of the crater lake since they warned 5 days ago the lake was 42C and heating at 0.5C per day.
That means the lake should be at about 45C today which is very hot.
Hopefully the vulcanologists will release some lake temperature data soon.
Declining tremor and mild solar conditions today suggest the crater lake heating may have stabilised but at a very high temperature.
Possibility for quake swarms, degassing, small phreatic eruption continue at Ruapehu but confidence is low.
Solar conditions could fade away later today or tomorrow.

Update. 17 April 1.00pm
16 April.
L'Esperance Rock 5.8 9.22pm
L'Esperance Rock 5.7 9.39pm
17 April.
South of L'Esperance Rock 5.5 4.01am
Big quake action north of New Zealand in Pacific Mag 6 risk location Kermadec Islands.
L'Esperance Rock, the southern tip of the Kermadec Islands, sits on undersea volcano Havre.
Solar conditions have weakened today and look like staying there for a few days.
Local quakes are likely to become infrequent in response to the weak solar conditions.
High Kermadec Island activity during the forecast period keeps New Zealand East Cape as a Mag 5 quake risk location on 17/18 April.
Volcanic activity at Ruapehu has eased along with the easing solar conditions.
Tremor is reducing at Ruapehu.
Vulcanologists at Ruapehu have given no lake temperature data for 6 days.
The lake temperature is possibly very high but stable today.
No quake swarms or degassing at Ruapehu today.
Ruapehu seems unlikely to erupt until new solar conditions arrive approximately 26 April.
Local vulcanologists have announced that White Island is quaking and heating up since January, the crater lake is slowly boiling off.
Volcanic activity is driving the March/early April Gisborne slow slip sequence and likely to drive more action in 2019.

Summary.
15 April.
Lake Rotoaira quake swarm.
16 April.
Nancy Sound 3.6 6.47am
South of Kermadecs 5.0 7.46am
L'Esperance Rock 5.8 9.22pm
L'Esperance Rock 5.7 9.39pm
17 April.
South of L'Esperance Rock 5.5 4.01am
Forecast period ends 18 April.
19 April.
Southwest of Kaikoura/Conway River 4.6 7.49pm
21 April.
Motiti Island 4.8 5.53pm
This forecast just kept ahead of a big heating cycle at Ruapehu.
Vulcanologists at Ruapehu announced the heating to 42C and rising fast on 11 April but made no more announcements.
Solar and other data sources suggested the volcano was cooling soon after the forecast was posted on 15 April.
Eruption risk at Ruapehu was dramatically reduced by 17 April and justified....the volcano hasn't erupted.
The forecast also went looking for Mag 5 in Fiordland/Haast but action was mild and high magnitude risk wasn't justified.
Mag 5 came north of the very active Bay of Plenty region with a big South of Kermadecs/Kermadecs sequence.
Quakes became very isolated from 17 April as solar conditions faded although Bay of Plenty was kept as a late Mag 5 risk.
The 21 April Motiti Island 4.8 almost met the magnitude parameter and was in Bay of Plenty but too late to be a real forecast success.
A new quake period begins 24 April and may bring stronger solar conditions than this forecast period.


Content © Roary Arbon 2013 - 2016
Website Design by Go Tech.