Aotearoa Summary. 24 April 2019 - 30 April 2019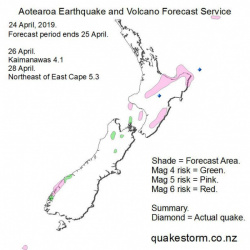 Click to Enlarge

Magnitude 5 risk locations are Northwest Arm Te Anau, Nancy Sound, Milford Sound, Tutoko, Pyke River, Cascade River, Masterton, Eketahuna, Dannevirke, Castlepoint, Porangahau, Waipukurau, South of Wanganui, South of Taranaki, Taumarunui, Atiamuri, Tokoroa, Whakatane, Rotorua, East Cape, White Island.
Magnitude 4 risk locations are Doubtful Sound, Haast, Hanmer, Murchison, St Arnaud, North of D'Urville Island.
Volcanos quiet.
Solar quake driving conditions have arrived earlier than the 24 April outlook, posted in the previous Aotearoa Summary.
The 4.37am Dannevirke 4.8 was widely felt and occurred before this forecast was posted.
The forecast period is likely to be extended.

Summary.
26 April.
Kaimanawa Range 4.1 7.26pm
28 April.
Northeast of East Cape 5.3 6.10am
This forecast was posted about 12 hours too late and was a shambles.
The forecasters went skydiving from 16000 feet at Franz Josef on 24 April and never got a forecast out that night.
The skydiving was worth it.
Solar conditions have fallen away since and the forecast was abandoned on 25 April.
The Northeast of East Cape 5.3 was significant and a sign that quakes aren't settled.
Vulcanologists at Ruapehu have released a report on 29 April, stating that the 10 April sudden heating at the Crater Lake rose to 44C on 19 April and then cooling.
The vulcanologists also observed a drop in volcanic tremor on 16 April and degassing, steam at the crater lake.
The 15 April Ruapehu eruption forecast was on the action but quickly abandoned on 16 April when space conditions faded away, keeping one step ahead of this major heating cycle at Ruapehu.
The Ruapehu heating has come just a couple of weeks after a big slow slip quake event at Gisborne.
A new forecast period begins 2 May and may feature more volcanic heating on the Volcanic Plateau and quakes in the South Island.
April was unusually a very quiet month for quakes and eruptions, May could be more active.



Content © Roary Arbon 2013 - 2016
Website Design by Go Tech.