Pacific Summary. 24 April 2019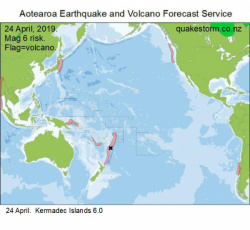 Click to Enlarge

Magnitude 6 risk locations are South of Kermadec Islands, Kermadec Islands, Tonga, Southern Vanuatu, Bougainville, New Britain, North of Sumatra, Myanmar, Eastern Himalaya, Eastern Honshu, Offshore Oregon, Valparaiso.
The forecast period is likely to be extended.

Summary.
24 April.
North of Kermadec Islands 6.0 2.20am
This forecast was a shambles.
The Kermadecs 6.0 came about 8 hours before the forecast was posted. (See explanation in Aotearoa Summary)
Looking back to the previous forecast period 16-22 April, astute observers may notice big Kermadecs action.
Regardless, solar conditions were fading when the forecast was posted and quakes have been quiet 24-30 April.
A new forecast period begins 2 May and may include the Western Himalaya.


Content © Roary Arbon 2013 - 2016
Website Design by Go Tech.