Pacific Summary. 3 May 2019 - 10 May 2019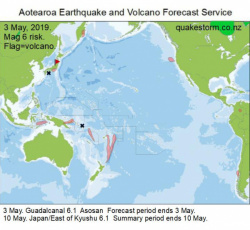 Click to Enlarge

Magnitude 6 risk locations are South of Kermadec Islands, Kermadec Islands, Fiji, Tonga, Vanuatu, New Britain, Banda Sea, Southern Honshu, Kamchatka Peninsula, Offshore Oregon, Central Colombia, Valdivia, Pakistan, Afghanistan.

Summary.
3 May.
300km north of Guadalcanal 6.1 7.25pm
Eruption Asosan.
Forecast period ends 3 May.
10 May.
East of Kyushu 6.1 11.48am
Summary period ends 10 May.
This forecast went heavily looking for moderate quakes (under Mag 7) in the Southwest Pacific.
The Guadalcanal 6.1 was the only area not marked in red and will keep the sceptics happy.
Japanese volcano Asosan had a small eruption and near to quake risk location Southern Honshu.
Solar conditions were only mild, fading on 4 May and the forecast was dropped.
Pacific Mag 6 quakes and eruptions then went quiet until 10 May.
The Offshore Kyushu 6.1 has caused no damage.
A new forecast period begins 11 May.



Content © Roary Arbon 2013 - 2016
Website Design by Go Tech.