Slow Slip Quake Resumes. 12 May 2019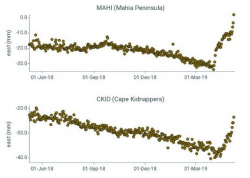 Click to Enlarge

The April slow slip at Gisborne/Mahia has ominously resumed.
This slow slip was already the biggest in years before the resumption of slipping.
The graph for Mahia shows a sudden increase in movement from early April, increasing again early May.
Unfortunately there is a link between slow slip quakes and following big quakes often months apart.
Time will tell what this slow slip event brings later on in New Zealand.
Thanks.

Content © Roary Arbon 2013 - 2016
Website Design by Go Tech.