Pacific Summary. 1 June 2019 - 5 June 2019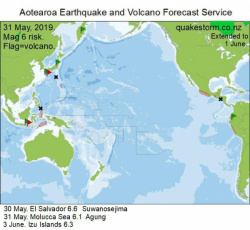 Click to Enlarge

Pacific Forecast. 31 May-1 June, 2019.
Magnitude 6 risk locations are Banda Sea, Timor, Celebes Sea, Molucca Sea, Northern Papua New Guinea, Northern Mariana Islands, Central Peru, Hindu Kush.
Volcanic activity may increase.
Agung, Sinabung, Suwanosejima, Sakurajima, Asosan, Karymsky, Shiveluch, Sangay, Etna.
The forecast period is likely to be extended.

Update. 1 June 1.00am
30 May.
Offshore El Salvador 6.6 9.03pm
31 May.
North Molucca Sea 6.1 10.12pm
Eruption Agung, Etna, Suwanosejima.
Solar conditions were already 24 hours underway when this forecast was posted but quake response times are delayed during solar minimum and quakes seem to take longer to build up..
Luckily the forecast was posted just a few minutes before the El Salvador 6.6 although no location success.
The Agung eruption forecast proved to be excellent timing. The volcano had been quiet for a week.
Recent eruptions at Krakatau and Sinabung indicate high volcanic pressure in Indonesia.
The Etna and Suwanosejima eruptions came before the forecast was posted...volcano data can be slow coming in.
Solar conditions are weakening early on 1 June but may have enough energy to drive a late isolated quake or eruption.
More Latin America quake action north of the the El Salvador 6.6 seems possible during the period.
Colima, Guerrero, Guatemala are added to Mag 6 risk locations.
Agung seems unlikely to erupt on 1 June and for several days afterwards.

Summary.
30 May.
Offshore El Salvador 6.6 9.03pm
31 May.
North Molucca Sea 6.1 10.12pm
Eruption Agung, Etna, Suwanosejima.
4 June.
Izu Islands 6.3 4.39pm
Moderate spaceweather early in the period drove quakes and eruptions with some good forecast success.
Agung had been quiet for a week prior to the 31 May eruption with plenty of online speculation from local punters as to when the next eruption would be but without spaceweather data their forecasts are likely to be random.
Regular brief explosive eruptions at Agung are no indication of a larger eruption but are an indicator for the ongoing activity at Java Zone volcanos.
Java volcano Merapi is in constant slow eruption and Sunda Strait volcano Krakatau is also active.
A brief eruption at Etna has pushed up lava. More action at Etna seems likely soon.
The Etna forecast was posted too late...Etna was already in eruption. (Murphys Law).
Solar conditions faded on 1 June and the forecast was dropped.
New unexpected spaceweather arrived 4 June, the Izu Islands 6.3 followed and was frustratingly just north of the Northern Marianas Islands risk location.
A very small number of risk locations were offered with this forecast.
Dropping the Southwest Pacific from risk locations was risky but the forecast worked.
New spaceweather is due 10 June and may see the next spectacular but minor eruption at Agung.



Content © Roary Arbon 2013 - 2016
Website Design by Go Tech.